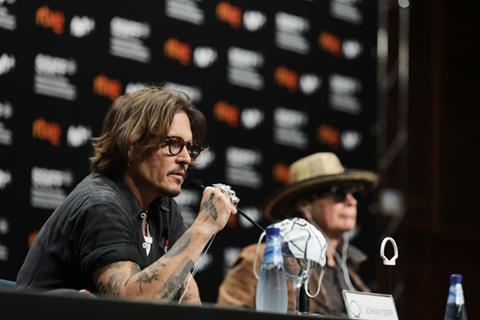 San Sebastian Film Festival director José Luis Rebordinos has defended the festival's decision to honour Johnny Depp with the Donostia Award at this year's event (September 17-25).
In 2020, Depp lost his libel case against UK tabloid The Sun after it described him as a "wife-beater" in a 2018 article.
The festival has been hit with criticism from domestic abuse charities in the UK, who have described the decision as "insulting". The Czech Republic's Karlovy Vary Festival has also been criticised after it too decided to honour Depp this year.
In his statement, Rebordinos said: "The festival's ethical commitments cannot only refer to the problems of women in a patriarchal society, despite the terrible nature of the situation in which we live, where hundreds of women are killed every year as the result of crimes by men.
"In these present times, when lynching on social media is rife, we will always defend two basic principles which form part of our culture and of our body of laws: that of the presumption of innocence and that of the right to reintegration. According to the proven data which we have to hand, Johnny Depp has not been arrested, charged nor convicted of any form of assault or violence against any woman. We repeat: he has not been charged by any authority in any jurisdiction, nor convicted of any form of violence against women."
Rebordinos added "as the director of and person holding the highest responsibility for the festival, I would like to repeat our commitment to fighting inequality, the abuse of power and violence against women".
He continued: "We have also endeavoured to create safe atmospheres for women in the festival places of work and sites and, in the event of inappropriate behaviour, which has occurred, we have taken tough and rapid action."
Criticism
The Sun's story claimed Depp assaulted his ex-wife Amber Heard, allegations Depp denied during a three-week hearing in July 2020 at London's Royal Courts of Justice. Judge Mr Justice Nicol – the High Court judge who ruled on Depp's case – said: "Although [Depp] has proved the necessary elements of his cause of action in libel, the defendants have shown that what they published in the meaning which I have held the words to bear was substantially true."
In September 2020 Depp attended San Sebastian to support the world premiere of Julien Temple's Crock Of Gold: A Few Rounds With Shane MacGowan that Depp had produced.
Organisations that have strongly criticised the honourary awards for Depp include UK domestic abuse charities Women's Aid Federation and Solace Women's Aid.
The latter said in a statement to the BBC: "When perpetrators of domestic abuse are lauded for their professional achievements in spite of evidence they have assaulted current or former partners, it sends a misleading message to survivors that the abuse doesn't matter. The decision to award this lifetime achievement prize is particularly insulting in the wake of a year where domestic abuse spiralled under conditions needed to address a global pandemic."
Other critics include Spain's Association of Female Filmmakers and Audiovisual Media, whose president Cristina Andreu condemned the decision to award Depp. "This speaks very badly of the festival and its leadership, and transmits a terrible message to the public: 'It doesn't matter if you are an abuser as long as you are a good actor'," Andreu told the Associated Press, adding that the association, which has close links to the San Sebastian festival, was "studying next steps".
Last year, San Sebastian opened with the world premiere of Woody Allen's Rifkin's Festival. Allen has been accused of molesting his adopted daughter Dylan Farrow when she was a child. He has always denied the claim, which was investigated at the time but led to no criminal charges.