Cannes titles The Desert Bride and April's Daughters among 12 titles.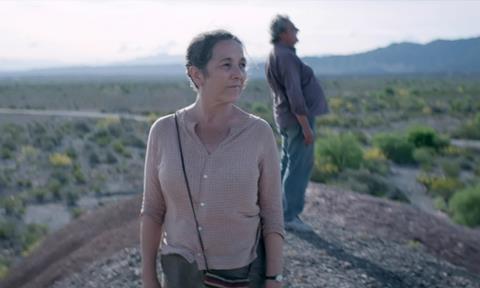 The 65th San Sebastian Film Festival (Sept 22-30) has revealed the 12 titles in its Horizontes Latinos programme, featuring some of the best Latin American films of the year to date.
This year's selection includes Cannes Un Certain Regard title The Desert Bride (pictured) directed by Cecilia Atán and Valeria Pivato, and Gustavo Rondón's debut La Familia, which was screened at Cannes Critics' Week.
Another Un Certain Regard title, Michel Franco's April's Daughters, has also been selected. His film After Lucia won the Prize Un Certain Regard in 2012, and his follow-up, Chronic competed for the Palme d'Or and won the best screenplay award at Cannes in 2015.
All 12 feature films compete for the Horizontes Award and its €35,000 ($40,958) prize. The six first and second films in the selection (La Educación De Rey, La Familia, Medea, Arábia, La Novia Del Desierto and Temporada De Caza) are also contenders for the EROSKI Youth Award.
Films selected may have already competed or premiered at international festivals but will not have screened at a Spanish festival or had their commercial release in Spain.
Read more:
San Sebastian Film Festival adds Cannes, Berlin winners
San Sebastian Film Festival adds 'The Disaster Artist'
HORIZONTES LATINOS 2017 LINE-UP
Synopses provided by festival
Una mujer fantástica (A Fantastic Woman)
Sebastián Lelio (Chile- Germany - Spain - USA)
Marina is a young waitress and wannabe singer; Orlando owns a printing company. Together they plan their future. When Orlando dies suddenly, Marina has to stand up to his family and society to show them what she truly is: a complex, strong, forthright and… fantastic woman. Teddy Award and Silver Bear for Best Screenplay at the Berlinale 2017.
Al desierto (To the Desert)
Ulises Rosell (Argentina - Chile)
Driven by the insecurity of her working situation, Julia, an employee at the Comodoro Rivadavia (Argentina) casino, gives in to the temptations of Gwynfor, a laconic man of Welsh descent, who promises her an administrative job with the oil company he works for. By the time she realises her mistake they are already well into the desert as they set out on an arduous hike across the Patagonia plain. Hunting, sheltering in caves and abandoned buildings, with no way out in the middle of infinite distances, the difficult coexistence will change as the days pass. In a pickup truck, on horseback, guided by trackers, superintendent Hermes Prieto is hot on their heels, convinced of finding some kind of trace in the midst of the desert.
Arábia / Araby
Affonso Uchôa, João Dumans (Brazil)
Young André lives in an industrial neighbourhood in Ouro Preto, Minas Gerais, near an old aluminium factory. Once a week, his aunt Márcia, a voluntary nurse at the community hospital, visits himself and his younger brother to help them with the household chores while their mother is away. One day, one of the factory workers, Cristiano, a foreigner with a stormy background in the neighbourhood, suffers an accident at the factory. Márcia gives him first aid right in front of the factory, and asks André to go to Cristiano's house to get his documents and some clothes. Entering the house, André comes across a mysterious notebook…
Cocote
Nelson Carlo de los Santos Arias (Dominican Republic - Argentina - Germany - Qatar)
Alberto, an evangelical gardener, returns to his hometown for the funeral of his father, murdered by an influential man. To mourn the dead man, he is forced to participate in religious celebrations that go against both his will and his beliefs.
La educación del Rey (Rey's Education)
Santiago Esteves (Argentina - Spain)
Bolting from his first ever heist, Reynaldo Galíndez, alias 'Rey', lands in the patio of the house inhabited by Carlos Vargas, a retired security guard. Vargas offers a deal: the young boy will repair the damage to his home in return for not being handed over to the police. The lessons given to the teenager by the former guard develop into a relationship not unlike the old legends of educating a king (for the "Rey" of his name, meaning "king"). But the agreement will start to fall apart when the loose ends of the robbery Reynaldo had been involved in start closing in around them. Films in Progress Industry Award and CAACI / Ibermedia TV Films in Progress Award in 2016.
La familia
Gustavo Rondón Córdova (Venezuela - Chile - Norway)
Twelve year-old Pedro roams the streets with his friends in the violent urban atmosphere of a working-class district of Caracas. When Pedro seriously injures another boy in a fight, his single father, Andrés, decides that they must make a run for it and hide. Although Andrés will realise that as a father he is incapable of controlling his son, the situation will bring them closer than they have ever been.
La novia del desierto ( The Desert Bride)
Cecilia Atán, Valeria Pivato (Argentina - Chile)
Teresa (54) has worked for decades as a live-in maid in Buenos Aires. When the family sells the house, she is forced to take a job in a distant town. Though not particularly comfortable with the idea, she embarks on a journey through the desert. During her first stop in the land of the miracle-producing 'Difunta Correa' saint, she loses her bag with all her belongings. This incident leads her to cross paths with a travelling salesman, the only person who can help her. What seemed like the end of her world will prove to be her salvation.
Las hijas de Abril (April's Daughters)
Michel Franco (Mexico)
Valeria is 17 and pregnant. She lives in Puerto Vallarta with her step-sister Clara. Valeria doesn't want April - the mother they haven't seen for some time - to find out about her pregnancy. However Clara, compelled by financial difficulties and the responsibilities of having a baby in the house, decides to call her. Abril arrives with the intention of helping her daughters, but we soon understand why Valeria would have preferred her to stay away.
Las olas (The Waves)
Adrián Biniez (Uruguay - Argentina)
Alfonso leaves work and heads for the beach. He dives into the sea and starts swimming. He surfaces on a beach where he and his family had been on holiday five years earlier. This is the start of a fantastic voyage through the different holidays and resorts he has visited during his lifetime: as a boy with his parents, on a mysterious island with his ex-wife, as a teenager with his friends, with Malaysian pirates and when camping in the same place with two different girlfriends in two consecutive years.
Los perros
Marcela Said (Chile - France)
Mariana (42) belongs to the Chilean upper class; she spends her days managing an art gallery and learning how to ride a horse. Her riding instructor, Juan, 20 years her senior, is an ex-cavalry officer known as El Coronel, under investigation for human rights abuses committed during the Chilean dictatorship. When Mariana embarks on a romance with her mysterious teacher, she finds herself caught up in a complex situation from which she is loathe to escape on discovering her father's close relationship with the man being investigated.
Medea
Alexandra Latishev (Costa Rica - Argentina - Chile)
María José's life swings back and forth between the monotony of classes at the university, her eternally distant parents, rugby training and dares with her gay friend. Emotionally disconnected from her environment, when she meets Javier she tries to start a relationship with him. But none of her efforts to live a 'normal' life succeed. She harbours a secret that nobody notices: she's a few months into her pregnancy.
Temporada de caza (Hunting Season )
Natalia Garagiola (Argentina)
Nahuel is a teenager with an innate violent conduct. After his mother dies, he travels to Patagonia in Southern Argentina, where he encounters his biological father, who he hasn't seen for more than a decade. Ernesto is a respected hunting guide who lives in the mountains with his second wife and daughters. The reunion is not an easy one, pride and resentment prevail in both father and son. They stubbornly resist any possible contact with one another. However, as the weeks go by and winter settles in, Nahuel starts giving in. Initial hostility gives place to curiosity, both towards his father's universe of hunting and the life of a group of teenagers that he meets in the area. On his side, Ernesto's roughness gives in to the undeniable love he has for his son…