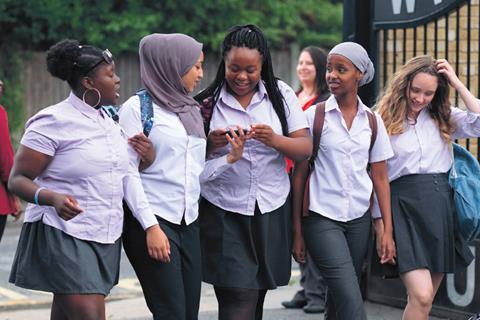 The world premiere of UK filmmaker Sarah Gavron's Rocks will open the Toronto International Film festival's (TIFF) Platform section for strong and distinctive directorial voices.
Closing the programme, now in its fifth year, is the international premiere of Pietro Marcello's Martin Eden, a historical romance drama based loosely on the 1909 novel by Jack London, which will receives its world premiere at Venice.
The roster of 10 features includes four films by women. In addition to Gavron, they are Julie Delpy with genre-bending tale of maternal grief My Zoe , Alice Winocour with Proxima, a drama starring Eva Green, Lars Eidinger, Matt Dillon, and Sandra Hüller about an astronaut and mother facing an impossible decision; and Paula Hernández with The Sleepwalkers, about a woman and her daughter who attend an uneasy family reunion.
Apart from Martin Eden, every film in the selection is a world premiere.
Rocks marks Gavron's third feature after Suffragette and Brick Lane, and follows a teenager who fears she and her little brother will be forced apart if anyone finds out they are living alone. With the help of her friends, she evades the authorities and navigates the most important days of her teenage life. Theresa Ikoko and Claire Wilson co-wrote the screenplay. Fable Pictures produced, and Faye Ward and Ameenah Ayub Allen served as producers.
"Rocks brilliantly reimagines the coming-of-age narrative with a pathos and precision we rarely see," said Cameron Bailey, Platform co-curator and TIFF artistic director and co-head. "Across only two features, Gavron has already proven herself as a distinct voice in world cinema, and we are proud to open this year's Platform section with her remarkable third directorial effort, an affecting celebration of empathy and an urgent reminder of the essential value of friendship."
Speaking to the overall selection, Bailey noted: "With a dynamic, international slate that assembles some of brightest cinematic voices of today and tomorrow, this year's lineup distills the essence of the Festival. These films tackle some of the most urgent concerns of our day using original, exciting cinematic language."
"Competitions should celebrate the range of what great cinema is and what it can accomplish," said Picard. "Platform is alive to those possibilities. Whether they are debuts or mid-career works, these films push the boundaries of narrative filmmaking in surprising and rigorous ways, some using documentary or experimental techniques in their approaches. Audiences will recognize similar themes emerge like a global collective subconscious, but what is truly exciting is the varied means of cinematic expression on display."
Platform films are eligible for the CAD $20,000 Toronto Platform Prize. Previous Platform highlights include Barry Jenkins' Oscar winner Moonlight, Karyn Kusama's Destroyer with Nicole Kidman, Clio Barnard's Dark River, and Bertrand Bonello's Nocturama.
The Platform line-up in full:
Anne At 13,000 ft (Can-US)
Dir: Kazik Radwanski
Platform Closing Film
Martin Eden (It-Fr)
Dir: Pietro Marcello
The Moneychanger (Uru-Arg-Ger)
Dir: Federico Veiroj
My Zoe (Ger-Fr)
Dir: Julie Delpy
Proxima (Fr-Ger)
Dir: Alice Winocour
Platform Opening Film
Rocks (UK)
Dir: Sarah Gavron
The Sleepwalkers (Arg-Uru)
Dir: Paula Hernández
Sound Of Metal (US)
Dir: Darius Marder
Wet Season (Sing-Tai)
Dir: Anthony Chen
Workforce (Mex)
Dir: David Zonana
TIFF runs from Sept. 5-15.