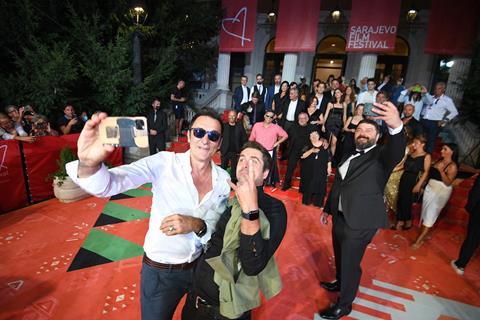 Pushing forward with an in-person 27th edition of the Sarajevo Film Festival has been a "brave" and successful decision, according to festival director Mirsad Purivatra and co-director Jovan Marjanovic.
"Two years [without a festival] would be a disaster," says Purivatra. "I thought it was reasonable to invest and be brave enough to go."
The choice has paid off for the long-time festival head, who has run the event since its inauguration. 900 guests have attended the event, of which 300 participated in the festival's CineLink industry strand.
This is down on the 1600 attendees from 2019; but still more than double the 400 that attended the first festival in 1995. "This is a sign that people are looking to meet each other, and are looking for normal life," says Purivatra. "That's what we described as our motto for this year – 'cinema is back, life is back'."
Heading the highlights from the 2021 edition for both Purivatra and Marjanovic has been the festival's inaugural Hearts of Sarajevo awards for best TV series, handed out at the city's iconic Hotel Holiday on Monday August 16.
The awards are notable not just for the six prizes handed out, including best drama series, best comedy and best series creator; but for the 400 film and TV professionals from former Yugoslavia countries who voted for them. That group will now form the nucleus of the first-ever professional academy for the region, in the mould of Bafta in the UK or Ampas in the US. None of the seven countries that comprise former Yugoslavia (Bosnia and Herzegovina, Croatia, North Macedonia, Montenegro, Serbia, Kosovo and Slovenia) currently has its own academy.
"It was a tremendous success, bringing together the best shows of the last year," says Marjanovic of what he calls "a pilot year" for the academy. "The festival is well-placed as a platform for the entire region to have an updated view as to who is doing what, and into careers of a lot of people.
"This is just the beginning; the academy side can be developed in the next four to five years, to increase the influence of the film and TV industry in the region."
Purivatra believes such a body will translate to TV production benefits. "It was so well-received," he says. "We only had six categories, but it's a big support to investments, improving the quality of TV production.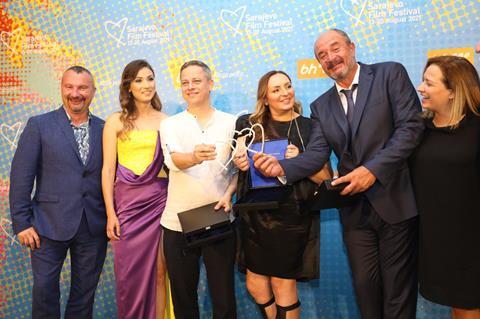 "Bosnia is now joining this trend [of increased TV production]," he continues. "BH Telecom [a Bosnian telecommunications firm] is investing €10m in production, which means we will employ 200-300 young people. They will stay in Bosnia to work, and we will open co-productions with the rest of the region."
Covid challenges
The festival heads are satisfied with the event's Covid protocols, which involved all guests pre-registering for a Covid 'pass', provided on proof of either double vaccination, a negative PCR test or evidence of Covid antibodies.
Covid testing was done on-site by independent laboratories Eurofarm and Alea Genetic Center, which provided the event with 1,000 tests. The festival has not yet received data on how many were used each day, or how many positive cases were recorded. However positive cases in the Sarajevo region are low compared to much of Europe, at around 30 per day, with no notable increase yet detected during the festival.
Masks are not currently mandated under local law; however the festival required attendees to wear them when entering venues, and kept capacity limits of 50% for indoor sites and 70% for those outdoors. "People are respecting the rules," says Purivatra. "The most important thing was to keep people safe, not to produce big damage."
"Things are not as we are used to," adds Marjanovic. "Still I'd say that testing, getting Covid passports – these things are in other walks of life as well as the festival. We managed to answer this challenge in an optimum way."
The majority of the 300 CineLink attendees came from the Balkan region, with much of the industry section – including the CineLink Talks, hosted by Screen – taking place online. The festival had planned for this reduced attendance, and will implement its findings from the hybrid version into future editions. "With the summer calendar of festivals being so tight, the idea that thousands of professionals would travel to each of these events was not realistic," says Marjanovic. "What we managed is to use our digital platforms for a longer preparation period; and then we have prolonged the one-one meetings to another few dates throughout September."
Online sessions including the Talks were presented at festival venues. "We found it functions rather well, and gives some structure to the people attending on site," Marjanovic says.
One guest who did make it was Irish rock legend Bono, for a flying visit to introduce The Million Dollar Hotel, a 2000 thriller by honorary awardee Wim Wenders. Attempts to arrange his appearance, which had been ongoing for months, seemed in vain when he withdrew just over a week before the event.
"Then seven days ago, he said, 'I checked everything, I can come for 10 hours. I'd like to be there, I'm not going to miss this'," said Purivatra.
His presence was warmly received by the Sarajevan public, fulfilling another of Purivatra's aims. "We can feel that smiles are on the faces of people in the film industry, and of people in the street. The festival brought new energy and hope that life is coming back."