Israeli title Fig Tree among selection.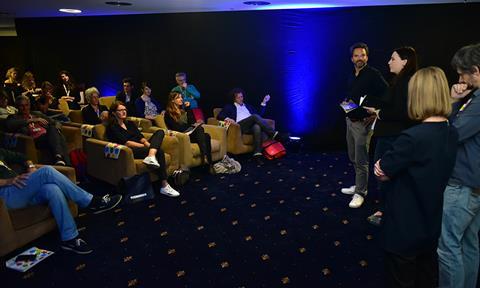 The Sarajevo Film Festival (Aug 11-18) has revealed its line-up of Work in Progress titles set to participate at the event's industry strand CineLink.
The 10 titles include Balkan projects, as well as several from further afield, such as Alamork Davidian's Fig Tree, which recently won an award at Jerusalem Film Festival's Pitch Point competition, and Reem Saleh's Lebanon-Egypt doc What Comes Around.
The projects will be presented to around 40 industry delegates, and a jury consisting of Paolo Bertolin (Venice Film Festival), Paz Lazaro (Berlin International Film Festival), Hedi Zardi (LuxBox), Petra Gobel (The Post Republic) and Serkan Yildirim (TRT) will award three prizes: the Post Republic Award (€50,000 in kind), the CineLink Restart Award (€20,000 in kind), and the Turkish National Radio Television Award (€30,000 in cash).
Sarajevo's head of industry Jovan Marjanovic commented: "The CineLink Work in Progress strand has proved to be incredibly effective for both the filmmakers presenting their works and the attending industry delegates. The selection of participants and the dynamic of the event make it ideal to see and pick up the most promising upcoming titles from the region."
The 2017 projects are:
Pig (fiction)
Director: Dragomir Sholev
Producer: Elena Mosholova, Yariv Lerner, Pavlina Angelova
Production company: Gorilla Film, Nu Boyana Film, Screening Emotions
Bulgaria
Nanook (fiction)
Director: Milko Lazarov
Producer: Veselka Kiryakova, Guillaume de Seille, Eike Goreczka
Production company: Red Carpet [BG], Arizona Production [FR], 42film [DE]
Bulgaria/France/Germany
All Alone (fiction)
Director: Bobo Jelčić
Producer: Zdenka Gold, Alem Babić
Production company: Spiritus Movens Productions [HR], Dokument Sarajevo [BH]
Croatia/Bosnia and Herzegovina
Horizon (fiction)
Director: Tinatin Kajrishvili
Producer: Lasha Khalvashi, David Hardies
Production company: Gemini, Artizm, Momento Film
Georgia
Fig Tree (fiction)
Director: Alamork Davidian
Producer: Saar Yogev, Naomi Levari, Felix Eisele, Sandrine Brauer
Production company: Black Sheep Film Productions Ltd. [IL], Av Medien Penrose [DE], En Compagnie des Lamas [FR]
Israel/Germany/France
The Day After I'm Gone (fiction)
Director: Nimrod Eldar
Producer: Eitan Mansuri
Production company: Spiro Films Ltd
Israel
What Comes Around (doc)
Director: Reem Saleh
Producer: Reem Saleh
Production company: Mazameer Productions
Lebanon/Egypt
Honeyland (doc)
Director: Ljubo Stefanov, Tamara Kotevska
Producer: Ljubo Stefanov, Atanas Georgiev
Production company: Apollo Media, Trice Films
Macedonia
Mo' (fiction)
Director: Radu Dragomir
Producer: Liviu Marghidan
Production company: Scharf Advertising
Romania
Never Let It Go (fiction)
Director: Paul Negoescu
Producer: Paul Negoescu
Production company: N-Graphix [RO], Papillon Film [RO], Screening Emotions [BG]
Romania/Bulgaria