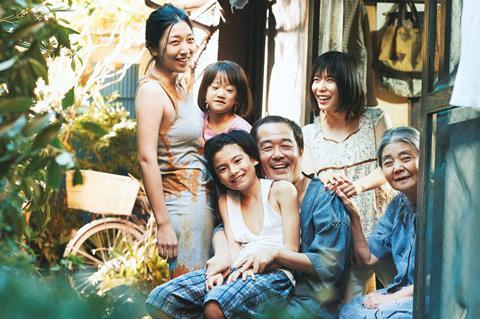 Sarajevo Film Festival (August 10-18) has revealed the 17 titles that will play in its Kinoscope programme, with China, Brazil and the US all represented.
The Kinoscope section is open to films from around the world, excluding the Southeastern European territories which comprise the festival's competition strand.
On the list is a special screening of Hirokazu Kore-eda's Shoplifters, which won the Palme d'Or at Cannes in May this year. Screen's review described it as 'a masterful ensemble piece about a 'family' living on its wits'.
Also appearing after a Cannes opening are Ali Abbasi's 'twisted fairytale' Border; Gabriel Abrantes and Daniel Schmidt's footballer comedy Diamantino; Benedikt Erlingsson's eco-terrorist drama Woman At War; and Lukas Dhont's gender identity pic Girl.
The Competition and In Focus line-ups were unveiled earlier this month, with four world premieres, one international premiere and five regional premieres in the former section.
Asghar Farhadi will preside over the Competition jury, which will award the festival's Heart of Sarajevo prize.
Elsewhere on the programme, the festival will pay tribute to Turkish filmmaker Nuri Bilge Ceylan, with screenings of his films including The Wild Pear Tree and an exhibition of his art works.
Opening this year's edition is another Cannes title, Pawel Pawlikowski's Cold War.
Kinoscope programme
Amateurs (Swe) - dir. Gabriela Pichler
Angels Wear White (China, Fr) – Vivian Qu
Border (Swe, Den) - Ali Abbasi
Chris The Swiss (Switz, Cro, Ger, Fin) - Anja Kofmel
Diamantino (Port, Fr, Braz) - Gabriel Abrantes, Daniel Schmidt
Girl (Bel, Neth) - Lukas Dhont
Good Manners (Braz, Fr) - Juliana Rojas, Marco Dutra
Let The Corpses Tan (Fr, Bel) - Hélène Cattet, Bruno Forzani
M (Fr) - Yolande Zauberman
Piercing (US) - Nicolas Pesce
Theatre Of War (Arg, Sp, Ger) - Lola Arias
The Guilty (Den) - Gustav Möller
The Real Estate (Swe, UK) - Axel Petersén, Måns Månsson
The Wild Boys (Fr) - Bertrand Mandico
Too Late To Die Young (Chile, Braz, Arg, Neth, Qat) - Dominga Sotomayor
Woman At War (Ice, Fr, Ukr) - Benedikt Erlingsson
Special screening:
Shoplifters (Jap) - Hirokazu Kore-eda