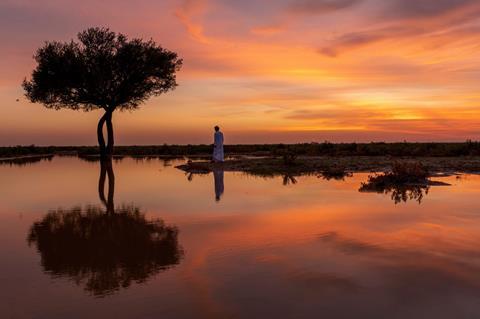 The Saudi Film Commission has announced a long-awaited incentive to attract film productions to the kingdom, comprising a cash rebate of 40%.
The programme, which operates under the banner Film Saudi, is aimed at encouraging local, regional, and international film producers to base their creative projects in Saudi Arabia.
Announced today in Cannes, the incentives package was first openly discussed in December at the Red Sea International Film Festival where it was revealed that features, documentaries, and animation projects shooting in Saudi Arabia would be eligible for a cash rebate worth up to 40% in qualifying costs.
A dedicated online platform for applications is now live and inviting applications for film productions planning to film either partially or fully in the kingdom.
Productions that recruit Saudi crew and talent above and below the line; feature the kingdom's culture, history and people; and showcase the diverse selection of landscapes in Saudi Arabia are among the qualifiers for incentives of up to 40%.
Abdullah Al Eyaf, CEO of the Saudi Film Commission, said: "The film industry is rapidly accelerating as we continue to invest in training our local crews and developing our infrastructure to ensure we are in a position to support all productions.
"Incentivising film productions will enable us to tap into the potential of our growing film industry, showcase our unique and breath-taking landscapes, and attract a diverse range of productions to the kingdom."
It is the most generous incentive in the Gulf region, surpassing Abu Dhabi's 35% rebate.
The incentive underlines Saudi's ambitions for its growing film and TV production sector as the kingdom continues with its Vision 2030 plan, resulting in the lifting of a 35-year cinema ban in 2017 and the opening-up of society.
A target has been set to produce and shoot 100 films in Saudi by 2030, consisting of both local and international productions. Titles have so far included Desert Warrior, a $150m feature directed by Rupert Wyatt and starring Anthony Mackie, which is produced by Start Ford's AGC Studios and Jeremy Bolt at JB Pictures in partnership with MBC Studios. This shot at NEOM, a futuristic megacity that is under construction in the northwest province of Tabuk.
Other titles including action-thriller Kandahar, directed by Ric Roman Waugh and starring Gerard Butler, which was filmed in AlUla; and a portion of Anthony and Jo Russo's Cherry, in which the region doubled for Iraq.
In addition, eight local feature films have been completed in the last 12 months, along with a slate of documentaries and local productions. Homegrown features in production include Norah written and directed by Tawfik Alzaidi, and Within Sand directed by Moe Alatawi.