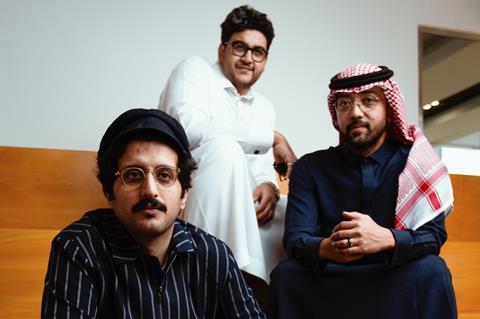 Telfaz11, one of Saudi Arabia's fastest-growing content groups, has secured a multi-million-dollar funding line from a consortium of high-profile local financiers.
Riyadh-based Telfaz11 was at the forefront of Saudi Arabia's YouTube youth content revolution in the early 2010s. Co-founders Alaa Yousef Fadan, Ali Al Kalthami and Ibrahim Al Khairallah are now in the process of expanding their operations into high-end drama and feature film.
The investment consortium is led by burgeoning Saudi exhibition chain Muvi Cinemas, which took an undisclosed stake in Telfaz11 earlier this year as part of a strategic partnership aimed at boosting the creation of local content.
Other investors include The AlHusseini Group and Mohammad Al Turki through Al Rawabi Holding.
Al Turki is an entrepreneur and film producer whose credits include Arbitrage, What Maisie Knew and 99 Homes. He is also the chairman of the Red Sea International Film Festival committee.
"This is now our second significant deal with Telfaz11 who have proven to be excellent partners who share our vision for growing cinema throughout the kingdom," said Muvi Cinemas CEO Sultan AlHokair. "Their proven track record for success sits upon a foundation of a clear vision for how to produce both commercially viable content, as well as programming that is artistic and with a message."
The exact figure for the consortium's investment was unspecified but Telfaz11 will use the new financing line to expand Telfaz11 Studios' capabilities as well as build its development and production slate. The finance bridge will also enable Telfaz11 to strengthen its position as Saudi Arabia's leading creative services provider.
"We are focused on being a premiere destination for filmmakers and talent throughout the world, and this new round of funding further solidifies our goal of being an effective partner for Saudi Arabia's new wave of filmmakers, auteurs, actors, actresses and producers across film, television and digital content," said Fadan.
The new funding line follows a number of game-changing developments for Telfaz11 over the last 18 months, including an eight-picture deal with Netflix, the Muvi partnership and the recent acquisition of independent film company Last Scenes Films, which was announced earlier this week, to bolster its feature filmmaking capacity.