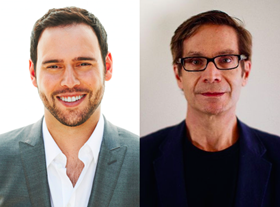 SB Projects founder Scooter Braun and founding chairman of Marvel Studios David Maisel have launched Mythos Studios.
The new venture has acquired a 50% stake in Aspen Comics along with the entertainment rights to the comic book company's intellectual property, including artwork, characters, and worlds created by its late founder Michael Turner.
Mythos Studios currently has multiple projects in development including two based on Aspen Comics properties that the company is in talks to find distribution and financing. The first is inspired by 1998 comic book bestseller Fathom, Turner's story about superheroine marine biologist who embarks on a journey of self-discovery.
The second project in development is inspired by 2003 independent comic book hit Soulfire, which takes place in a future of technology as a youngster and a team of supernatural characters embark on a quest to overcome the forces of evil.
Mythos Studios will be based in Los Angeles and the co-founders have brought in longtime SB Projects COO Scott Manson, who will be joined by a team of production and creative executives.
Animation producer Catherine Winder will reunite with Maisel after they collaborated on The Angry Birds Movie.
"David's experience of building some of the greatest franchises in film history during his tenure as founding chairman at Marvel Studios is invaluable and I'm excited to be partnering with him on this new venture," Braun said. "We have some incredible projects in the works and I'm excited to help bring David's brilliant vision for these properties to the world."
"Scooter is already a legend as a pop culture engineer and master marketer to global audiences," Maisel said. "I can think of no more perfect partner to bring the next generation of franchise entertainment to the world.
"He is also a longtime personal friend, and we are already having a blast working together in bringing these amazing properties to life. Our combined experiences across film, TV, music, and Broadway make our playing field for future projects so exciting".
Braun's SB Projects was established as a diversified entertainment and media company working in music, film, technology, brands, culture, and social good. The slate includes CBS procedural Scorpion, The Giver, and documentary Never Say Never.
Maisel served in various capacities at Marvel from 2003-2010 including president, vice-chairman, and chairman of Marvel Studios, and Office of the CEO of Marvel Entertainment.
His executive producer credits include Iron Man, The Incredible Hulk, Iron Man 2, Thor, and Captain America: The First Avenger.