Deadline approaching for UK industry awards; ceremony moves to November 30 for 2017.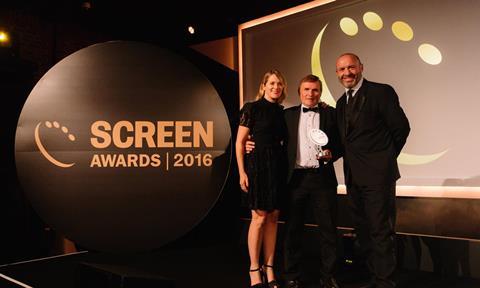 The first batch of judges for the 2017 Screen Awards have been revealed
Now in their eighth year, the industry awards celebrate the ingenuity, skills and achievements of the people, teams and companies that connect films with UK audiences.
There are 20 categories encompassing marketing, distribution, publicity and exhibition.
This year's ceremony takes place a month later than previous editions - the winners will be announced on Thursday November 30 at the Grange St. Paul's in London.
Last year's Screen Awards saw Disney, Fox and Picturehouse all win big.
With more judges to be confirmed, the first tranche features:
Marc Allenby - CEO, Trafalgar Releasing
Chris Besseling - head of theatrical marketing, eOne
Sally Griffith - director of film and cinema, chapter arts centre and director of BFI Film Hub - Wales
Suzanne Noble - head of UK publicity and corporate communications, Studiocanal
Mandy Kean - director of cinema – Europe, Soho House
Kevin Markwick - owner, The Picture House Uckfield
Damian Spandley - director of programme, Curzon Cinemas
David Livingstone - producer, Calamity Films
Amanda Posey - producer, Wildgaze Films
Amit Dey - director – acquisitions and production, Universal Pictures International Entertainment
Andrew Orr - managing director, Independent Film Sales
Vanessa Saal - head of worldwide sales, Protagonist Pictures
Chris Lawrance - publicity and marketing consultant
Colin Swift - managing director, Substance Global
Ian Cartwright - director and co-founder, Ourscreen
Tom Linay - head of film, Digital Cinema Media
Sam Cryer - director, Intermission
Jonathan Rutter – director of film, Premier
The announcement comes as the deadline for entry approaches - click here for more details.