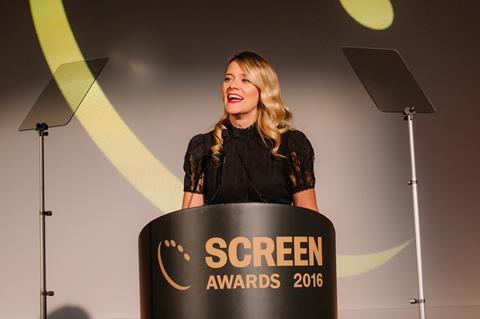 The Screen Awards 2017 shortlist has been announced, with 20th Century Fox leading the way with 12 nominations. Curzon is shortlisted in a combined 11 categories, with Altitude up for ten awards.
The awards recognise excellence in UK film distribution, exhibition, marketing, publicity and brand partnerships.
The shortlist will now be debated by an independent jury of industry experts, who select the final winners.
The winners will be announced at an awards ceremony hosted by Edith Bowman on November 30 at Grange St. Paul's Hotel in London.
The Exhibitor Lifetime Achievement Award will be announced later this month.
For more on the awards, visit the Screen Awards website.
Last year's Screen Awards saw Disney, Fox and Picturehouse all win big.
Screen Awards 2017 nominations
Distributor of the Year (Sponsored by Deluxe Technicolor Digital Cinema)
20th Century Fox
Altitude Film Distribution
Curzon Artificial Eye
Dogwoof
Trafalgar Releasing
The Walt Disney Company
Marketing Team of the Year
20th Century Fox
Altitude Film Distribution
Dogwoof
Trafalgar Releasing
The Walt Disney Company
Online Campaign of the Year
Alien: Covenant, 20th Century Fox
Atomic Blonde, Glass Eye Inc.
Baby Driver, Way to Blue
Beauty and the Beast, The Walt Disney Company
Lady Macbeth, Way to Blue
Lion Movie, Influence Digital
T2 Trainspotting, Way to Blue
The Handmaiden, Curzon Artificial Eye
Creative Agency of the Year - Audiovisual
Coffee & Cigarettes
Joint
Intermission Film
Creative Agency of the Year - Print
Coffee & Cigarettes
AllCity Media
The Creative Partnership
Market Reactive
PR Team of the Year - agency
Cameo
Edelman
Hope & Glory
Organic
Substance
Way to Blue
PR Team of the Year - In-house
Curzon Artificial Eye
20th Century Fox
The Walt Disney Company
3D Film Campaign of the Year (Sponsored by RealD 3D)
Beauty and the Beast,The Walt Disney Company
Guardians Of The Galaxy Vol. 2, The Walt Disney Company
War for the Planet of the Apes, 20th Century Fox
Premiere of the Year
Alien: Covenant, 20th Century Fox
Dancer, Dogwoof
Guardians of the Galaxy Vol. 2, The Walt Disney Company
The Salesman in Trafalgar Square, Curzon Artificial Eye
Rising Star (Sponsored by Creative Skillset)
Alex McIntyre, Way to Blue
Delphine Lievens, Altitude Film Distribution
Dheeraj Agnihotri, Organic
Dorottya Szekely, Dogwoof
Hollie Bradley, Vue Entertainment
Holly Joice, Seventh Art Productions
Jamie Saunter, Brand Culture
Keir Waller, Strike Media
Kerri McNally, Cameo Productions
Laura Dos Santos, Curzon Artificial Eye
Rebecca Mader, Organic
Ryan Hewitt, Curzon Cinemas
Sarah Gutierrez, Way to Blue
Sarah Knowles, Substance Global
Specialist Film Campaign of the Year
Embrace, Demand Film
My Scientology Movie, Altitude Film Distribution
Napoleon, BFI
The Levelling, Peccadillo Pictures
Whisky Galore, Arrow Films
Your Name, National Amusements, Anime Ltd & Fetch Publicity
Theatrical Campaign of the Year - 99 Sites and Under
A Ghost Story, Picturehouse and A24
Certain Women, ARPR
Elle, Trafalgar Releasing
God's Own Country, Picturehouse
Hunt For The Wilderpeople, Vertigo Releasing
The Handmaiden, Curzon Artificial Eye
Theatrical Campaign of the Year - 100 Sites and Over (Sponsored by Motion Picture Solutions)
Alien: Covenant, 20th Century Fox
Beauty & The Beast, The Walt Disney Company
Brotherhood, Lionsgate
Hidden Figures, 20th Century Fox
Lady Macbeth, Altitude Film Distribution
La La Land, Lionsgate
Moonlight, Altitude Film Distribution
Trailer of the Year (Sponsored by Powster)
Baby Driver, Create Advertising
Borg vs McEnroe, Curzon Artificial Eye
Elle, Trafalgar Releasing
God's Own Country, Picturehouse
Hounds of Love, Arrow Films
Lady Macbeth, Altitude Film Distribution
My Cousin Rachel, 20th Century Fox
My Scientology Movie, Altitude Film Distribution
Napoleon, Ignition Creative
Toni Erdmann, Coffee & Cigarettes
Poster Design of the Year
Beside Bowie: The Mick Ronson Story, Coffee & Cigarettes
Donnie Darko – 15th Anniversary, Arrow Films
God's Own Country, Picturehouse
Lady Macbeth, Altitude Film Distribution
Land of Mine, Coffee & Cigarettes
My Cousin Rachel, 20th Century Fox
My Scientology Movie, Altitude Film Distribution
The Girl With All The Gifts, Yolk Creative London
The Handmaiden, Curzon Artificial Eye
The Levelling, Peccadillo Pictures
The Young Offenders, Coffee & Cigarettes
Tom of Finland, Peccadillo Pictures
Toni Erdmann Quad Poster, Market Reactive
Cinema Marketing Campaign of the Year (Sponsored by Movio)
Everyman Music Film Festival, Everyman Cinemas
Picturehouse Cinemas' Membership Campaign, Picturehouse
This Is Not A Cinema, Vue Entertainment
Cinema of the Year - 24 screens or under (Sponsored by Veezi)
Curzon Cinema and Arts, Clevedon
Edinburgh Filmhouse Cinema
Genesis Cinema, Mile End
Jam Jar Cinema
Parkway Cinema & Theatre Beverley
Phoenix Cinema Trust
Regal Movieplex, Cromer
Saffron Screen
Screen Machine mobile cinema
Showroom Cinema
The Sussex Exchange
Tyneside Cinema
Zeffirellis and Fellinis
Cinema of the Year - 25 screens or over (Sponsored by Vista Cinema)
Cineworld at the Empire Theatre Leicester Square
Cineworld Birmingham Broad Street
Crouch End Picturehouse
Curzon Aldgate
Duke of York's Picturehouse
Everyman Bristol
ODEON Bournemouth
Picturehouse Central
Reel Cinema Burnley
Showcase Cinema de Lux, Leeds
Vue West End
Event Cinema Campaign of the Year
British Museum presents: Hokusai, More2Screen
I, Claude Monet, Seventh Art Productions
One More Time With Feeling, Trafalgar Releasing
Take That: Wonderland Live from The O2, CinemaLive
World Cup 66 Live, TBI Media
Ziggy Stardust and the Spiders from Mars: The Motion Picture, Trafalgar Releasing
Brand Partnership of the Year (Sponsored by DCM)
Baywatch and Shockwaves, Lime Communications
Rogue One & World Duty Free Campaign, The Walt Disney Company
Dreamworks' Trolls and Vosene, Lime Communications
Hidden Figures & EDF Energy, 20th Century Fox
Storks And Mail Boxes etc, Lime Communications
The Boss Baby & Hilton, 20th Century Fox
Exhibition Achievement Award (Sponsored by UK Cinema Association)