The publication showcases the UK's talent, facilities and locations available to film and television productions.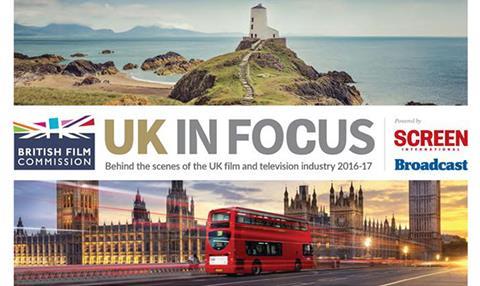 The British Film Commission (BFC) is partnering for the second year with Screen International's parent company Media Business Insight (MBI) for a new edition of its annual magazine, UK In Focus. The publication will showcase major upcoming productions across the UK's regions and nations, spotlighting areas of excellence in the country's infrastructure and skills base.
Following the successful 2016 edition, Screen International and sister publication Broadcast will produce and distribute UK In Focus, which will be launched at the Cannes Film Festival in May and distributed throughout the year at an increased number of international markets, festivals and events.
Adrian Wootton, Chief Executive of the British Film Commission, commented: "We couldn't be happier to be working with MBI on UK in Focus. The magazine's 2016 edition was an extraordinary success, showcasing the incredible breadth of the UK's film and TV offer and why our screen industries are such a global success. MBI's acumen, expertise and industry knowledge make them ideal partners, and we can't wait to get the next edition out to industry insiders all over the world."
Digital versions will also be available on screendaily.com, broadcastnow.co.uk, theknowledgeonline.com and kftv.com.