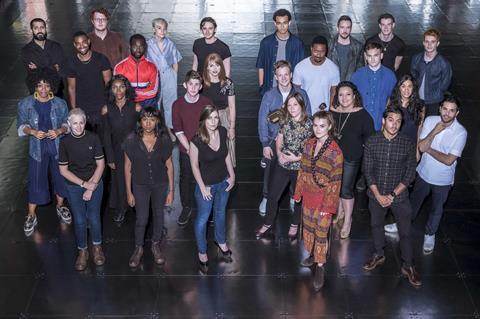 Screen International has revealed its Stars of Tomorrow 2017, spotlighting the hottest up-and-coming actors and filmmakers in the UK and Ireland.
Now in its 14th year, the annual talent showcase spotlights up-and-coming actors, writers, directors and producers from the UK and Ireland who are primed to make their mark in the industry in the years to come.
Scroll down for the full list
Screen has displayed a strong track record in identifying rising talent with the initiative. Previous Stars of Tomorrow include Benedict Cumberbatch (2004), Oscar-winner Eddie Redmayne (2005), Suffragette star Carey Mulligan andStar Wars: The Force Awakens actor John Boyega (2011). Last year's Stars of Tomorrow included Florence Pugh (Lady Macbeth), Fionn Whitehead (Dunkirk) and Josh O'Connor (God's Own Country).
Stars of Tomorrow editor Fionnuala Halligan curates the line-up after considering hundreds of candidates and consulting with industry experts including casting directors, talent agents, managers, producers and directors.
For the third year, Screen is partnering with the BFI London Film Festival to launch the initiative to international industry, which will see the 2017 Stars presented as part of its programme of events.
This year's Stars will be toasted at an event in London during this year's festival, on Thursday October 5.
This will be followed by an exclusive industry dinner on Monday October 9 attended by filmmakers, producers, casting directors and the Stars themselves.
Halligan commented: "I'm particularly thrilled this year to announce a strong, diverse list of Stars. These are lively, opinionated actors and filmmakers who are ready and waiting to show the world what they are made of."
Matt Mueller, editor of Screen International, said: "Every year it is a pleasure to unveil our latest UK & Ireland Stars of Tomorrow to the world, and we are thrilled to announce this year's list. They are a hugely talented and diverse group of actors, screenwriters, directors and producers with very bright futures in the industry ahead of them."
Clare Stewart, director of the BFI London Film Festival, added: "The BFI London Film Festival is thrilled to once again partner with Screen International in presenting the 2017 Screen UK & Ireland Stars of Tomorrow and I warmly congratulate this year's participants. The future of film and the success of our industry is dependent on fostering innovation, leading the charge on diversity and inclusion and creating opportunities for new and emerging filmmakers and Screen Stars is a vital platform for profiling the brightest new British and Irish talent."
Screen's Stars of Tomorrow 2017:
Actors
Filmmakers (writers, directors, producers)