The initiative, highlighting five emerging film talents from the Arab world, is presented at Dubai International Film Festival.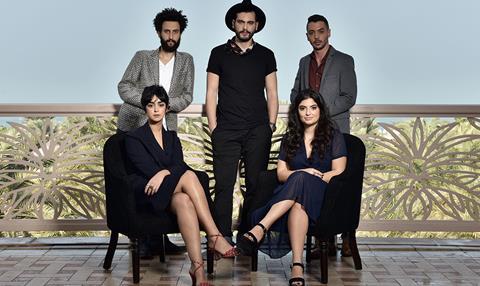 Screen International has unveiled its first ever Arab Stars of Tomorrow, spotlighting five of the hottest up-and-coming talents from across the Arab world.
A partnership with Dubai International Film Festival (DIFF), the showcase flags actors and directors who are expected to make waves on the festival circuit in coming years
The showcase is curated by Screen's France and Middle East correspondent Melanie Goodfellow, who conducted in-depth research including interviews with leading producers, distributors, sales agents and festival programmers with knowledge of the region.
"There is so much talent in this region that it was difficult selecting just five names," said Goodfellow. "In their different ways, each of them has something special that makes them worth watching in the future."
The five selected talents include Lebanese director Mounia Akl, whose short film Submarine about a world drowning in rubbish impressed audiences at this year's Cannes and is also playing in DIFF's Muhr Short section. Akl is currently scripting her first feature-length film.
Tunisian artist and actress Mariam Alferjani is set to capture audience attention in Kaouther Ben Hania's Beauty And The Dogs, which is expected to hit the festival circuit next year. Alferjani plays the lead role of a woman who fights for justice after being sexually assaulted by the police.
Jordanian director Amjad Al-Rasheed has been selected on the strength of his short films and advertising work, including his latest short, The Parrot, which is also screening in DIFF Muhr Shorts. Al-Rasheed co-directed the film with Darin J. Sallem, who is attending DIFF with her DFC project Farha.
Sryian actor Samer Ismail, known across the Arab world for his TV roles, recently impressed in his feature debut The Worthy, which premiered at London Film Festival and is screening in DIFF's Muhr Emirati competition. He plays a dark psychopathic character in the film.
Completing the selection, Moroccan filmmaker Alaa Eddine Aljem shows artistic promise through several shorts, including his most recent work Les Poissons Du Desert. He is currently developing his debut feature Saint Inconnu through Sundance Institute's labs.
Screen International editor Matt Mueller said: "I am delighted to unveil our very first line-up of Arab Stars of Tomorrow, and to be partnering with DIFF on this initiative. Our UK Stars of Tomorrow has talent-spotted a host of actors and film-makers who have gone on to become household names, and I believe that Arab Stars of Tomorrow will be able to offer a similar international platform for launching outstanding regional talent to industry and audiences around the world."
DIFF managing director Shivani Pandya added: "This is an exciting time for DIFF as the collaboration with Screen International, who are renowned for their talent-spotting ability, will provide an unmatched opportunity to raise the profile some of the most talented and deserving individuals in the region today."
Screen's UK Stars of Tomorrow, which was presented at the BFI London Film Festival for the first time last year, has identified British and Irish talent such as Benedict Cumberbatch, Emily Blunt and James McAvoy in the early days of their careers.