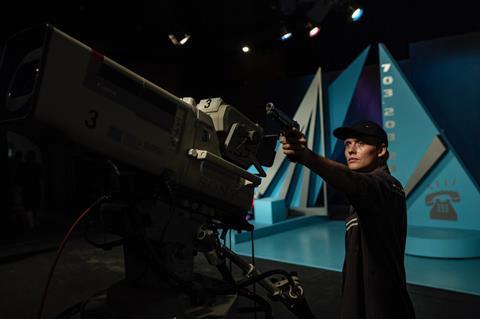 Principal photography has wrapped on Jakub Piątek's Prime Time, which received Screen International's Best Pitch Award at the Polish Film Days in Wroclaw in July.
Described by the director as a "fantasy about revolt and rebellion", the feature debut is centred on 20-year-old Sebastian, who locks himself in a TV studio armed with a gun on New Year's Eve in 1999 with two hostages - a famous TV presenter and a security guard – and demands that the TV station broadcast his message to the world in prime time.
"Just before the explosion of web popularity and the birth of YouTube, there were numerous incidents of breaking into TV studios during live programmes around the world," said Polish writer-director Piątek. "Although our film is not a reconstruction of those events, we found lots of rich inspiration in them."
Piątek and producer Jakub Razowski are both graduates from Lodz Film School, the former having studied film directing and the latter completing postgraduate studies in production after a Master's degree from the Warsaw School of Economics. They previously worked together on 2014 documentary One Man Show and the short film Users, which premiered at the Slamdance Film Festival in 2019.
"We started working on our third collaboration about two years ago and were planning for it to be a small budget, guerrilla-style film, but it has since developed into the size of a normal Polish debut production," said Piątek.
Razowski was working as a production manager at one of Poland's leading production houses, Watchout Studio, whose recent credits include English-language spy thriller The Coldest Game. He convinced the studio's owners to board the project on the strength of a treatment and first draft for Prime Time, co-written by Piątek and Łukasz Czapski.
"Having the project developed under the umbrella of Watchout Studio meant we were in the comfortable position of having access financial resources during development to work with the Polish script doctor Andrzej Mellin from the Lodz Film School and attend workshops like Torino Film Lab Extended," said Razowski. "We didn't have any doubt about whether the project would happen or not."
"The time at the Torino Film Lab was important for the six intensive days of working with Ossi Nishri, a script doctor from Israel, diving into the story and asking really tough questions," Piątek recalled.
"And taking part in New Horizons Studio+ last year gave us an introduction to the workings of the film industry," Razowski added. "It made us think about whether our film should be local or more international. People would point out places in our script which were perhaps too local, so this made us aware of having a more international perspective."
The Polish Film Institute put up 40% of the film's €1m budget, with a further 20% coming from private broadcaster TVN. Next Film, which distributed The Coldest Game in Poland last autumn, came on board with an MG that enabled Watchout to secure all of the financing prior to the shoot in July and August.
"We had always scheduled the shooting for the summer because the actors are theatre actors and, as the theatres always have a break during the summer, we had already booked them for this time," Razowski explained.
"Once the coronavirus pandemic started, a lot of other Polish productions were trying to shoot in the summer and those planning for the autumn wanted to bring their shoots forward because people think that a second wave will come."
Casting 'Corpus Christi' star
"Nobody believes that we had decided on Bartosz [Bielenia] for the role of Sebastian before the success of Jan Komasa's Corpus Christi," said Piątek. "We saw around 160 young actors during the casting process, but decided that he was one around April/May last year, when they were still editing Corpus Christi."
Piątek added that the success of Corpus Christi, which debuted at Venice and received an Oscar nomination, "really stressed us out because we went from working with an actor to the actor".
"We were a little afraid that he [Bielenia] might change his mind, but he remained faithful to the project and we are more than happy with his performance," said the filmmaker.
Reduced crew due to pandemic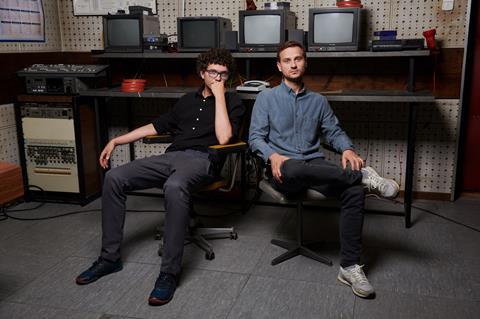 Most of Prime Time was shot in an old TV studio from the 1960s on the outskirts of Krakow, with professional TV technicians employed as extras, operating the TV cameras. Expert advice during rehearsals and on set was offered by counter-terrorist specialists and those versed in negotiation techniques during hostage takings.
Using just one location and working with theatre actors meant the production could focus on rehearsals ahead of the actual shoot. "That is not always the case in Poland where people usually keep the money to use for the shooting, but we had reserved a part of the budget for this," said Razowski.
Four weeks were spent rehearsing, with two weeks on set with working cameras and intercoms. The film's director of photography, Michał Łuka, attended rehearsals with a small camera and the footage was edited together by Piątek to see how the story was developing.
"The conditions under the coronavirus pandemic meant that our crew was smaller than usual," said Razowski, highlighting that the production adhered to regulations set out by the Polish Film Institute such as taking the temperatures of cast and crew, wearing face coverings and social distancing.
"One good thing was that we were not shooting in Warsaw so people were not travelling back to their homes after filming finished each day," he added. "We all lived together in the same building about 10 minutes from the studio set, and everyone treated the situation very seriously. Nobody was going off to the pub in the evenings and mixing with people outside of the production."
Positive response
It was only 10 days into the film's shoot when Piątek and Razowski presented Prime Time as a 'work in progress' at the virtual edition of the Polish Days at the end of July.
"We had a good response to the project from the meetings with sales agents and festival representatives," said Razowski. "People were surprised that we were already into our shoot when we came to the Days but we wanted to have this continuation after having had the project at Studio+ in Wroclaw last year. Bartosz definitely made people interested in the project and they wanted to know what it is like to work with him and whether the film's story is based on real events.
"It was also useful for me to see that - with a first-time director - international sales agents are waiting to see a rough cut, at least."
Now that principal photography has wrapped, director Piątek is taking a break before joining his two editors. These include his wife Urszula Klimek-Piątek and Jaroslaw Kamiński (his professor at film school in Lodz who was also the editor on Cold War and Ida), who are aiming to produce a rough cut by the end of October to show to sales companies. A final cut should then follow in December with the film ready by February 2021.
According to Razowski, the aim is to world premiere Prime Time at an international festival before a Polish premiere at the Gdynia Film Festival in September 2021. Next Film then plans to release the film in Polish cinemas at the end of October 2021.
The Screen International Best Pitch Award was launched during the Polish Days in 2019 to offer editorial coverage during the life-cycle of a project, having bee presented in the Works in Progress section.