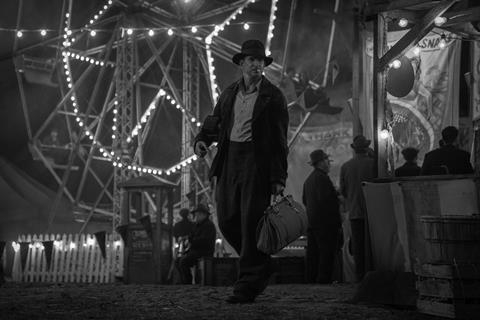 As Searchlight Pictures opens Guillermo del Toro's awards hopeful Nightmare Alley today (December 17) the studio said it will unveil a black and white version at select Los Angeles cinemas in January.
Over the course of January 14-23 2022 the alternative version will play for several days at each of the New Beverly Cinema, AMC The Grove, The Landmark, and Los Feliz Theater, American Cinematheque.
The noir remake stars Bradley Cooper as a con artist who meets his match. The cast includes Cate Blanchett, Toni Collette, Willem Dafoe, Richard Jenkins, Rooney Mara, Ron Perlman, Mary Steenburgen, and David Strathairn. Del Toro and Kim Morgan adapted the screenplay from the novel by William Lindsay Gresham.
"Although we shot Nightmare Alley in colour, we lit it as if it were black and white," said del Toro. "You can see exactly the same level of design, and we wanted to give viewers this special vantage as a take of the classic noir genre that the film is part of."
Cinematographer Dan Laustsen added it was "a dream come true" to tell the story in colour and black and white. "When we designed and shot we were always thinking colour and black & white," he said. "The classic lighting I have used is an homage to all the incredible masters of cinematography who have inspired me."