Event cinema organiser plans to rebuild Hill Valley in the US following a month-long run in London.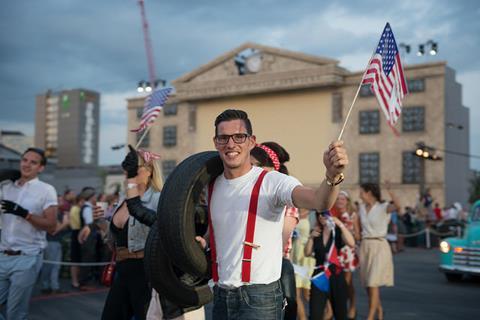 Secret Cinema is planning to take its hit production of Back to the Future to Los Angeles, marking the 30th anniversary of the film's release.
The immersive cinema company, which builds live events around the screening of films, plans to stage the production in LA next summer. It will follow Secret Cinema's launch in the US in early 2015 with its Tell No One strand, which keeps the audience guessing the identity of the film until they arrive on the night.
Secret Cinema revealed its plans following the end of a month-long run of Back to the Future, staged at the Queen Elizabeth Olympic Park in Stratford, London from July 31 to Aug 31.
The production attracted an audience of more than 75,000 (each paying more than £50 per ticket), making it the biggest live cinema event of its kind to date and putting the 1985 time travel classic, starring Michael J Fox and directed by Robert Zemeckis, back in the UK box office top ten.
The elaborate set, which included the stores, school and famous clock tower featured in the film built around a square where the audience sat to watch the movie, was visited three times by Back to the Future writer Bob Gale.
"Secret Cinema's Back to the Future was a truly amazing experience, and exceeded my expectations on every level," said Gale.
"The recreation of Hill Valley was wonderful, the cast was outstanding, the bands were terrific, and the enhanced presentation of the film was awesome. And let's not forget the audiences: they were fabulous, and their enthusiasm, love and passion for the film really pushed everything over the top.
"I had an absolute blast all three times I attended, and I can't imagine a better way to kick off the film's 30th Anniversary. My hat is off to Secret Cinema for pulling off this glorious, magical tribute.'
The production initially suffered troubles, with the first four nights cancelled – the first two just hours before the event was due to begin, resulting in around 14,000 disappointed ticketholders.
But customers affected by the cancellation of the opening weekend were offered to reschedule or obtain a refund on their tickets, and those eligible to travel on Virgin Trains were offered complimentary train tickets to travel back to at a later date, courtesy of Virgin Trains.
Fabien Riggall, Secret Cinema's founder and creative director, said: "We looked to build the most epic and detailed experience of this classic and wonderful film. I feel we have delivered this and reinvented how films could be experienced in the future.
"Audiences are looking for something different, they want to be part of the story and take part in an adventure through the films and music they love. We shall continue to push the boundaries of what we do to allow for another way of experiencing culture."