Secret Cinema has released figures for its most recent event - elaborate screenings of Terry Gilliam's Brazil that were initially cancelled for "licensing reasons".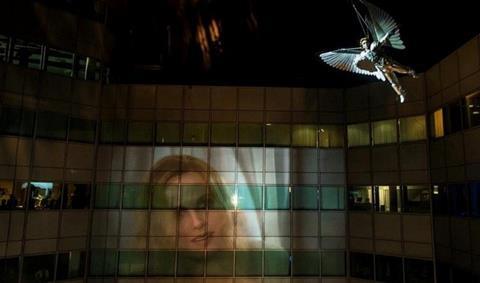 The event surrounding screenings of the 1985 film was staged across a 13-floor office block in West Croydon in London from May 2 to June 9. It marked Secret Cinema's 20th production.
Before the event, audiences connected online through a specially-built social network where they were given an "employment identity".
Around 2,500 audience members gathered at Canary Wharf in the weeks before to take part in a mass synchronised dance.
More than 25,000 audience members attended over the five-week period alongside hundreds of actors, artists and dancers. Music was contributed by Imogen Heap, Atoms for Peace and The Knife among others.
Live concerts were held by The Basement Orchestra and the London Contemporary Orchestra Soloists, with choreography by Wayne McGregor.
During the event, audience members helped make commercials and short films that were later broadcast throughout the building.
Gilliam said the event was "a wondrously mad and spectacular undertaking."
He added: "The huge array of actors played their roles to the hilt as we roamed the labyrinthine, bureaucratic spaces. And like all overconfident systems, what could be more appropriate for the film's director than to be trapped in a malfunctioning lift between interrogation floors. Torture, I suppose."
The event was initially meant to open on April 25 but was cancelled just an hour before launch along with the weekend's remaining screenings due to "licensing reasons". It received a green light to commence screenings from May 2.
Secret Cinema has said it will return later this year and is planning a global project.
It is currently staging its first major music project, Secret Music, working with folk artist Laura Marling, and is screening Saturday Night Fever at the Troxy in East London.