Festival strand highlights online storytelling.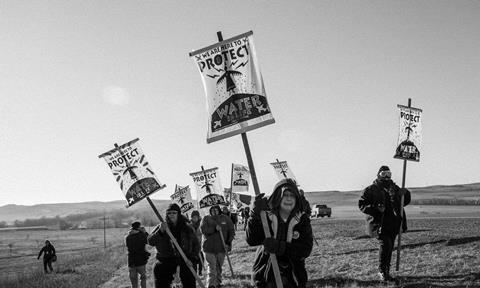 The Tribeca Film Festival (April 19-30) has revealed its N.O.W. Showcase, Special Screenings and Creators Market, including projects from Eli Roth and Shailene Woodley.
The N.O.W. Special Screenings series features content curated by Tribeca from leading online networks and talent.
Academy Award-nominated Josh Fox and James Spione will premiere Awake, A Dream From Standing Rock [pictured], executive produced by Shailene Woodley, and co-directed by Myron Dewey.
Eli Roth's Crypt TV will premiere Monster Madness, a series of character shorts from the digital brand's scaremakers.
Op-Docs, The New York Times' award-winning forum for short, opinionated documentaries, will screen three films at the festival.
Online studios DUST, Adaptive Studios, and Stage 13 will present work from Nicole Delaney, Vera Miaob and Arkasha Stevenson. Conversations will follow each screening with the creators, talent, and special guests.
The N.O.W. Showcase is a selection of 10 independent online creators' work that celebrates original forms of storytelling.
In addition to the world premieres of the online work during Showcase Screenings on April 20, a selection from filmmaker's past work will be showcased on TribecaFilm.com.
The second annual Creators Market connects online creators with buyers, producers and brands to support the creation, sale and showcase of new online works.
Previous discoveries from the N.O.W. programme include High Maintenance from Ben Sinclair and Katja Blichfeld, picked up by HBO; and Money & Violence from Moise Vernau, whose second season was picked up by Jay-Z's Tidal.
"We created N.O.W. to recognise artists who were blazing new ground with high-impact online work, and since then, we've seen more and more creators drawn to the medium each year," said Tribeca's Paula Weinstein.
"What's so exciting about the nature of the online platform is that these projects can tackle poignant subject matter with immediacy, offer critical commentary on current events, and provide new perspectives on the stories, and issues of the day."
"The N.O.W. programme is driven by discovery, to find the most exciting, emerging storytellers working today," said Liza Domnitz, programmer at Tribeca Film Festival. "This year, we've curated an incredible group of filmmakers who've tackled comedy, genre and documentary - while varied, their commonality lies in an impressive ability to tackle everyday universal experiences, political realities and the esoteric with equal aplomb."