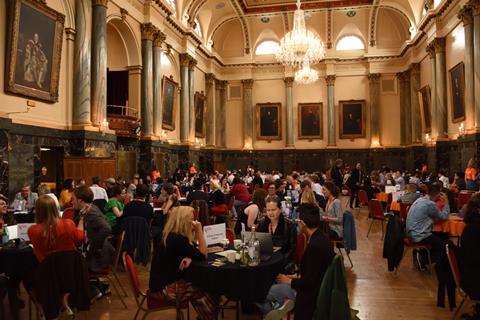 Documentary projects about corruption in football, black representation in the arts and the explosion in Beirut are among those selected for Sheffield Doc/Fest's 2021 pitching forum MeetMarket.
The UK documentary market will take place virtually, as it did last year as a result of the pandemic, and will run from June 9-11. The public-facing festival will include physical screenings but the market has gone online-only due to travel restrictions for the mainly international delegates.
A total of 55 projects were selected from more than 570 applications and includes productions from 31 countries, ranging from Argentina and Hong Kong to the UK, US and Russia.
The projects include Danish documentary A Game Of Secrets, directed by Niels Borchert Holm, which tackles corruption in football and follows a young man who exposes some of its biggest stars. It is produced by Peter Engel, whose credits include Danish Film Award winners The Mole: Undercover In North Korea and The Ambassador.
Also selected is Call Nina!, a Sweden-UK co-production directed by Lamin Daniel Jadama, whose debut feature Fonko played the London Film Festival, IFFR and Goteborg. Jadama's latest centres on an artist who tirelessly works to increase representation and inclusion in performing arts.
The devastating fallout of the 2020 port explosion in Beirut is the subject of Dancing on the Edge of a Volcano, a Germany-Lebanon-France co-production from Lebanese filmmaker Cyris Aris, marking his second feature after 2018's The Swing.
The slate also includes biopics of Mary Robinson, Ireland's first female president, as well as a portrait of Werner Herzog for which the filmmaker has granted exclusive glimpses into his life and work.
Running parallel to MeetMarket will be the Arts Talent Market, which includes 22 projects covering a wide spectrum of non-fiction art, split between immersive VR/AR and video art to installation pieces.
Themes explored in these projects include personal experiences of death and depression, reactions to the climate crisis and explorations of the history of graffiti and neurodisabled dance performance.
The industry events run within the main Sheffield Doc/Fest, which will take place as a hybrid event from June 4-13.
MeetMarket 2021
A Distant Call (Indonesia, UK)
Dir: Andrea Suwito
Pro: Finbar Somers, Co-Pro: Mandy Marahimin
A Game of Secrets (Den)
Dir: Niels Borchert Holm
Pro: Peter Engel
A Good Bad Guy (working title) (US)
Dir: Alex Morelli
Pro: Daniel Garber
A Night of Knowing Nothing (Fr-India)
Dir: Payal Kapadia
Pro: Thomas Hakim
Brotherhood (working title) (Switz-Pol)
Dir: Hanka Maciag
Pro: Esther van Messel
Call Nina! (Swe-UK)
Dir: Lamin Daniel Jadama
Pros: Lamin Daniel Jadama, Daniela J - Alvarez
Celtic Utopia (Swe)
Dirs: Lars Lovén, Dennis Harvey
Pro: Elin Lilleman Eriksson
Colors of White Rock (Mong-Fr)
Dir: Khoroldorj Choijoovanchig
Pro: Tessa Louise Salomé
Dancing on the Edge of a Volcano (Ger-Leb-Fr)
Dir: Cyril Aris
Pro: Katharina Weser, co-pro: Myriam Sassine
Eternity One (US)
Dir: Marnie Ellen Hertzler
Pros: Riel Roch-Decter, Emma Hannaway
Fedora (Port-Mex-US)
Dir: Leland Palmer
Pro: Eduardo Ruiz Vasconcelos
Go Come Stay - New Nomads in Europe (working title) (Ger)
Dir: Andreas Voigt
Pro: Barbara Etz
Happiness (Rus-Est)
Dirs: Dmitry Kubasov, Anastasia Murashkina
Pros: Max Tuula, Maria Gavrilova
Here, the Silence is Heard (Chile)
Dir: Gabriela Pena
Pro: Picho García
In Your Shadow (Neth-S Afr)
Dirs: Thabi Mooi, Tom Fassaert
Pros: Renko Douze, Hasse van Nunen
IndieFilm_Upnorth Oct 2020_01 (UK-Nor)
Dir: Håvard Bustnes
Pro: Carsten Aanonsen
Is There Anybody Out There? (UK-US)
Dir: Ella Glendining
Pro: Janine Marmot
Israel and Palestine on Swedish TV 1959-1989 (Swe)
Dir: Göran Hugo Olsson
Pros: Tobias Janson, Dennis Harvey (AP)
It Didn't Start With You (UK)
Dir: Chloe Abrahams
Pro: Emma Norton, consulting pro: Diane Quon
Lost Futures (Ire)
Dir: Niall McCann
Pro: Matthew Boyd
Love Alone Can't Make a Child (Ger-Nor)
Dir: Judith Beuth
Pros: Andrew Grant, Stefan Kloos
Madame Négritude (US-Fr-Martinique)
Dir: Madeleine Hunt – Ehrlich
Pro: Christine Sanders
Malcolm (UK-US)
Dir: Usayd Younis
Pro: Cassie Quarless
Marai (Bra)
Dir: Lara Carmo
Pro: Fernanda Guimaraes Abreu
Matabeleland (Kenya)
Dir: Nyasha Kadandara
Pro: Sam Soko
Motherboard (UK)
Dir: Victoria Mapplebeck
Pro: Carol Nahra
Mrs Robinson (Ire)
Dir: Aoife Kelleher
Pro: Trisha Canning
Omitama (working title) (UK-Ivory Coast)
Dir: Matthew Davies
Pros: Joshua Llewellyn, Joël Akafou, co-pro: Martina Bassenger
Q (Leb-US)
Dir/Pro: Jude Chehab
Red Herring (UK)
Dir: Kit Vincent
Pro: Ed Owles, co-pro: Dea Gjinovci
Second Generation (Gre-Sp)
Dirs/Pros: Elpida Nikou, Rodrigo Hernandez
Co-pro: Kellen Quinn
Sugar Island (Dom Rep-Sp)
Dir: Johanné Gómez Terrero
Pro: David Baute
Sunday in Japan (UK-Port)
Dirs: Leo Nelki, Sunday Bamweyana
Pros: Antonio Ribeiro, Golriz Kolahi
The Female Gaze (Fr)
Dir: Iris Brey
Pro: Bérénice Vincent
The Last Great Event (Swe-UK)
Dir: Phillip Carter
Pro: Dylan Williams
The Last Tour of Yemen (UK)
Dir: Sean Mcallister
Pros: Sean Mcallister, Erin Bottari
The Plague (Pol)
Dir: Monika Kotecka
Pro: Paweł Kosuń
The Shadow Scholars (UK)
Dir: Eloise King
Pros: Eloise King, Riel Roch-Decter
The Time of Pomegranates (UK)
Dir/Pro: Simon Hipkins
The Tuba Thieves (US)
Dir: Alison O'Daniel
Pro: Rachel Nederveld
The White Doctor (Ir-Ken)
Dir: Zippy Kimundu
Pro: Ciaran Cassidy
TISH (UK)
Dir: Paul Sng
Pro: Jen Corcoran, co-pro: John Archer
Untitled Digital Privacy Project (UK)
Dir: Kate Stonehill
Pro: Steven Lak, co-pro: Sorcha Bacon
Untitled Hydebank Film (N Ire-UK-US)
Dir: Ross McClean
Pro: Bronte Stahl
Untitled Marjolaine Grappe Film (Fr)
Dir: Marjolaine Grappe
Pros: Dana Nachman, Thierry Marro, Chelsea Matter
Untitled: Miss Africa South (S Afr)
Dirs: Aliki Saragas-Georgiou, Jacqui-Lee Katz
Pros: Bridget Pickering, Aliki Saragas-Georgiou, Jacqui-Lee Katz, co-pro: Darren Kerr
Untitled Vinay Shukla Project (India)
Dir: Vinay Shukla
Pros: Vinay Shukla, Khushboo Ranka, co-pro: Luke W Moody
Vestibule (US)
Dir: Riley Hooper
Pro: Caitlin Mae Burke
Volver a Volver (Return Again) (Czech-Ven)
Dirs: Valerio Mendoza, Jorge Sánchez Calderón
Pro: Katerina Cerna
We Are Here to Stay (India)
Dir: Sunanda Bhat
Pro: Anirban Dutta
We are Volcanoes (HK)
Dirs: Sharon Yeung, Natalie A. Chao
Pros: Peter Yam, Sharon Yeung
Werner Herzog - Radical Dreamer (Ger-UK)
Dir: Thomas von Steinaecker
Pro: Bernhard von Hülse, co-pro: André Singer
Whores Like Us (Arg)
Dir: Agustina Comedi
Pros: Guido Deniro, Anahí Farfán
Women Against The Bomb (Fr)
Dir: Sonia Gonzalez
Pro: Anne Labro
Yoyogi (Est-Jap)
Dir: Max Golomidov
Pros: Volia Chajkouskaya, Ivo Felt