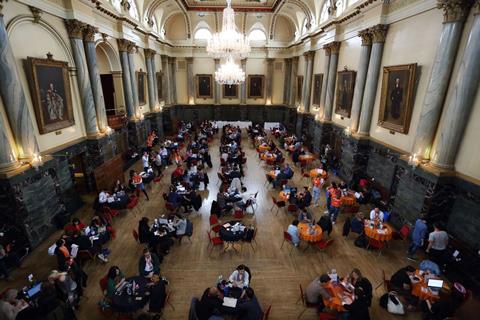 Sheffield Doc/Fest (June 7-12) has revealed the titles that will pitch for funding at the 14th edition of its MeetMarket initiative.
A total of 65 filmmaker teams from 20 countries will pitch to international and UK decision makers for research, development and production funding. Around 300 decision makers from 20 countries are expected with execs from YouTube, ESPN, Starz and The Financial Times.
At the Alternate Realities Market, which includes digital titles, a further 25 VR and interactive projects will pitch in one-to-one meetings to a range of specialist decision makers.
For the first time, the teams pitching in the MeetMarket will be invited to take meetings with those pitching work in the Alternate Realities Market. The Markets will take place on 11 - 12 June.
Patrick Hurley, head of marketplace & talent at Sheffield Doc/Fest said: "In this year's market we are eager to foster collaborations between filmmakers and the creators who are using the latest technologies to push non-fiction storytelling in exciting new directions."
Among the projects pitching at this year are:
MeetMarket
Tilda Swinton collaborates with The Derek Jarman Lab and producer Colin McCabe (The Seasons In Quincy: Four Portraits of John Berger), on her latest directorial project On Drumduan Hill which follows the life of a small progressive school in the Scottish Highlands.
Mitch Dickman will pitch Silent Rose, the story of a mixed-race teenager attending a predominantly white school.
Phil Grabsky's 20 Years In Afghanistan is a two decade project spanning the life of an 8-year old boy who grows into a courageous man of 27.
Exploring democracy in Trump's America, Represent, a new project from the award-winning Chicago-based prod-co Kartemquin Films (who had two films nominated at this year's Oscars) follows two women both running for office for the first time.
Isabel Tang has teamed up with two-time Academy Award-winning executive producer John Battsek to tell the story of The Sherwood Case about being raped by a stalker and not being believed.
I Am Spartakiades produced by Kevin Macdonald (Touching The Void) and Docsville's Nick Fraser, which uses footage of communist Czechoslovakia's mass gymnastic events, the Spartakiades.
Femke Wolting will present a new 4-part series The Singh Case uncovering a corrupt judicial system set in the 1980s East L.A. criminal scene.
Neither Confirm Nor Deny from producer Sheryl Crown (Searching For Sugarman) unveils a CIA plan fronted by Howard Hughes to steal a Soviet nuclear submarine.
Shanghai Blues about the rapidly developing Chinese Superleague from BAFTA-winning producer Daniel Gordon (Hillsborough).
Alternate Realities Market
Alison Killing will pitch Stories In Maps And Data which offers a real time interactive storytelling format based on maps and data visualisation.
Primal Screams: The Fun of Fear from Australian director Lester Francois, is a short room scale VR documentary about the history and science behind why we like being scared.
Climate Changers by director Mary Matheson (her first 360 film Mamie's Dream premiered at Sheffield Doc/Fest 2017) showcases the brightest ideas and technological developments in the eco movement.
The VR documentary series, Invisible Heroes from Brazilian director Ricardo Laganaro (Step To The Line) will teleport the viewer to the most remote landscapes on earth through the eyes of those who live in extreme conditions.
The Alternate Realities Market will welcome industry experts from Google, ARTE, BBC, Creative England, Digital Catapult, The Guardian, The National Theatre, The Space, MK2 VR, SXSW, Tribeca Film Institute and Submarine.
Full list of projects
MeetMarket Projects 2018
130 Children
Chile, Costa Rica / Mimbre Producciones / Director: Ainara Aparici ; Producer: Daniela Camino
20 Years in Afghanistan
Great Britain / Seventh Art Productions / Directors: Shoaib Sharifi & Phil Grabsky; Producer: Phil Grabsky
A Voz de Deus - The Voice of God
Brazil / Corisco Filmes / Director: Miguel Antunes Ramos; Producer: Nicholas Bernstein & Paulo Serpa
All The Numbers
Ireland / True Films / Director: Ross Whitaker; Producer: Aideen O'Sullivan; Exec Producer: Alan Maher & Johan Wallace
Angels of Sinjar. Yazidis - 21st Century Genocide
Poland, Germany / Saxonia Entertainment GmbH / Director: Hanna Polak; Producer: Simone Baumann
Between Brothers
Netherlands, Belgium / Een van de jongens / Director: Tom Fassaert; Producer: Hasse van Nunen
Brazil – The Rise and Fall of Lula da Silva
Germany, Brazil / gebrueder beetz filmproduktion / Director Cesar Charlone; Producer: Christian Beetz
Burden of Proof
United States / Markay Media / Director: Cynthia Hill / Producer: Christine Delp
Dark Corner
Great Britain / Sunshine / Director: Sophie Robinson; Producer: Dewi Gregory
Deepali
United Kingdom, India, Denmark / Little Mountain Films / Director: Anne Svejgård Lund; Producer: Mike Lerner
Digital Dictatorship China (WT)
Germany, Italy, France / Filmtank GmbH / Director: Andreas Pichler; Producer: Michael Grotenhodd, Thomas Tielsch
Enemies Of The State
United States / Codebreaker Films LLC / Director: Sonia Kennebeck; Producer: Ines Hofmann Kanna
Exemplary Behaviour
Lithuania, Bulgaria, Slovenia / ERA Film UAB / Director: Audrius Mickevicius; Producer: Rasa Miskinyte; Co-producer: Martichka Bozhilova
Garage People
Germany / Tamtam Film GmbH / Director: Natalija Yefimkina; Producers: Andrea Schütte & Dirk Decker
Genesis
Sweden / Momento Film / Director: David Herdies & Georg Götmark; Producer: Michal Krotkiewski
Going Back (The Mysterious Tale of Brian MacKinnon)
Great Britain / Hopscotch Films / Director: Jonothan McLeod; Producers: John Archer & Olivia Lichtenstein
How to Steal a Country
South Africa, Great Britain / Curveball Productions Pty Ltd / Director: Mark Kaplan; Producer: Rehad Desai, Zivia Desai Keiper & Anita Khanna
I Am Spartakiades
Great Britain / Two Step Films / Directors: Fran Robertson & Hana Vojackova; Producer: Fran Robertson; Exec Producers: Nick Fraser & Kevin Macdonald
Instant Badass, from Street to Cage
Thailand / Wishtrend Thailand / Director: Andy Funnell; Producer: Jitinat Asdamongkol
Liberace – The King of Bling
Germany / NEW DOCS / Director: Jeremy Fekete; Producer: Matthias Greving
New Project
Project info available to participating Decision Makers only. The Netherlands / ifproductions / Director & Producer: Ilse & Femke van Velzen
Madidi (WT)
United States / Wanderlust Productions, LLC / Director: Elizabeth Unger; Co-producer: Kate Brooks
New Project
Project info available to participating Decision Makers only. Great Britain / Beehive Films Ltd / Director: Daisy May Hudson; Producers: Alice Hughes & Claire O'Neill
Maya
United Kingdom, Iran / Banyak Films / Directors: Jamshid Mojaddadi & Anson Hartford; Producer: Hugh Hartford
Mayor
United States / Rosewater Pictures / Director: David Osit; Producer: Mohanad Yaqubi
Misha's Story
United Kingdom / Met Film Production Ltd / Director: Sam Hobkinson; Producers: Al Morrow, Poppy Dixon & Matt Wells
Miss Holocaust Survivor
Turkey, Germany, Denmark, Israel / Kamara / Director: Eytan Ipeker; Producer: Yoel Meranda; Co-producers: Katrin Pors, Eitan Mansuri
Nascondino (Hide and Seek)
Great Britain, Italy / My Accomplice / Director: Victoria Fiore; Producers: Jennifer Corcoran & Aleksandra Bilic
Neither Confirm Nor Deny
United Kingdom / New Sparta Films / Director: Philip Carter; Producer: Sheryl Crown
Nobody Knows Jack
United Kingdom / Below the Radar / Director: Michael Fanning; Producer: Mairéad Ní Thréinir
Nothing Succeeds Like Success: The Trident Story
Vault Films / Great Britain / Director: Dylan Harvey; Producers: Alex Hurle, Katie Hodgkin & Simon Halfron
On Drumduan Hill
Great Britain / The Derek Jarman Lab / Director: Tilda Swinton; Co-producer: Colin McCabe; DOP: Bartek Dziadosz
Original Machines
Ireland, Belize, Switzerland, United Kingdom, United States / Dot TV & Films / Director: Sean O'Cualain & David Burke; Producer: David Burke
Piano Dreams (WT)
Ireland / Gambit Pictures / Director: Gary Lennon / Producer: Raymond McCormarck
Represent
United States, Denmark, Great Britain / Backbone Films; Kartemquin Films / Director: Hilary Bachelder; Producer: Anne Sobel; Co-producers: Rosie Garthwaite & Kristine Barfod
Resort
Denmark / Tambo Film / Bullitt Film / Director: Mette Carla Toft Albrechtsen; Producer: Rikke Tambo Andersen
Sanctuary
United States / 3Paw Pictures / Director: Annie Kaempfer / Director: Annie Kaempfer; Producer: William Stefan Smith
Shanghai Blues
United Kingdom, Brazil / Director: Gemma Thorpe / Producers: Daniel Gordon & João Inada
Silent Rose
United States / Listen Productions / Director: Mitch Dickman; Producers: Shane Boris & Britta Erickson
Society Must Be Defended: Michel Foucault predicts the future
France, United States, Luxembourg / Director: Antonino D'Ambrosio ; Producer: Francois Le Gall
Stray
United States, Turkey / Director: Elizabeth Lo; Producer: Shane Boris; Co-producers: Ceylan Carhoglu & Zeynep Koprulu
Sumo Supremes
Great Britain / Bungalow Town Productions / Director: Matt Kay; Producer: Rachel Wexler & Jez Lewis; Exec producer: Emily Jez
Symphony of the Ursus Factory
Poland/ Wajda Studios / Director: Jasmina Wojcik ; Producer: Zuzana Krol
The First Day of the Rest of Your Life
Great Britain / Director: David Lale; Producer: Laura Wagner
The Good Father
Ireland / Soilsiú Films / Director: Neasa NíChianáin; Producer: David Rane
The Great Green Wall
Great Britain / Make Productions / Director Jarred Scott; Producer: Sarah Macdonald; Co-producers: Fernando Meirelles & Alexander Asen
The Interrogation of Saddam Hussein
United Kingdom / Met Film Production / Director: Angus McQueen; Producers: Al Morrow & Rachel Heywood
The Million Dollar Pigeon Race
Ireland / Venom / Director: Gavin Fitzgerald; Producer: Ken Wardrop
The Mystery of DB Cooper
United Kingdom / Minnow Films / Director: John Dower; Producer: Morgan Matthews
The Nova Story
United Kingdom / Time Inc / Directors: Kes Glozier & Nate Camponi; Producer: Jason Bick; Co-producer: Anna Silver
The Protector
United Kingdom, France / Rogan Productions / Director & Producer: James Rogan
The Rise and Fall of Bhutto
Great Britain, Norway / Crescent Films / Director: Ziad Zafar; Producer: Faris Kermani
The Rise Of The Synths
Spain, United States / 9am Media Lab / Director: Iván Castell; Producers: Ana Castañosa & Javier Moreno
The Rossellinis
Italy, Latvia / B&B Films / Directors: Alessandro Rossellini & Angelica Grizi; Producer: Raffaele Brunetti
The Shadow of Gold
France, Canada / Films à Cinq / Director: Denis Delestrac; Producer: Sally Blake; Co-producer: Robert Lang
The Sheriff
United Kingdom / Below the Radar / Director: Grace Sweeney; Exec producer: Michael Fanning
The Sherwood Case
United Kingdom / Director & Producer: Isabel Tang ; Executive Producer: John Battsek
The Singh Case
The Netherlands / Submarine / Director: Hans Pool; Producer: Femke Wolting
The World According to Amazon
France, Canada / Little Big Story / Director: Adrien Pinon; Producer: Valérie Montmartin
Untitled Princess Nokia Project
United States, United Kingdom / Directors: Dan Sickles, Antonio Santini & Orian Barki; Producer: Tabs Breese
Uproar
Great Britain / Villager Films / Director: Moe Najati; Producer: Matthew Cooper & Georgia Woolley; Exec producers: Nigel Sinclair & Robert Rosenberg
Valentin, son of Europe
Italy, Belgium / Fuoricampo / Director: Antonio Martino; Producer: Valeria Correale
What we Believe
United Kingdom / Gramafilm / Director: Nick Algridge; Producer: Kat Mansoor & James Morton-Haworth
Where Does My Heart Go Now (WT)
United Kingdom, Quatar / Banyak Films / Director: Yasmin Fedda; Producer: Hugh Hartford & Elhum Shakerifar
Where The Peach Is In Bloom
China / CNEX / Director: Chunhua Jiang; Producer: Ruby Chen
Alternate Realities Market Projects 2018
A Symphony Of Noise
United Kingdom, Germany / Kloos & Co / Director: Anrick Bregmann; Producers and creators: Jamie Balliu & Michaela Pnacekova
After the Fire
United Kingdom / Jayisha Patel Films / Director & producer: Jayisha Patel
Climate Changers
Great Britain / Surround Vision / Director: Mary Matheson; Producer: Richard Nockles
I am (not) a Monster
United Kingdom, United States, Japan, Belgium, The Netherlands / Nelly Ben Hayoun Studios / Director: Nelly Ben Hayoun ; Producer: Christopher Hird
"A Video Ghost" (A Shigeko Kubota VR Documentary)
United States / Drakeford Studios / Director: Jason Drakeford; Producer: Trevor Shimizu
Primal Screams: The Fun of Fear
Australia / StudioBento / Director: Lester Francois ; Producers: Lester Francois & Anna Brady
Cis Penance: Transgender Lives in Wait
United Kingdom / Creator: Zoyander Street ; Advisor: Jennifer Booth
Electric Malady - AR. 'Invisible Fields'
Great Britain, Germany / Aconite Productions / Director: Marie Lidén; Producer: Aimar Reques & Lorna Jane Ferguson
TrueLove
Great Britain / Artist & Producer: Jane Gauntlett; Creative producer: Tessa Ratuszynska
Camp Century
Great Britain, United States, Denmark / UNIT9 / Director: Anrick Bregman & Nicola Paglia
Playing God
United Kingdom / Cats Are Not Peas / Director: Ben Fredericks; Producer: Alexandra Ruhl
We Sing In Fire And Blood
United Kingdom / Director: Hazel Grian; VR producers: All Seeing Eye
uSiSTA 360
Tanzania, Kenya / RADiO FiLM Ltd / VR content director: Tulanana Bohela; 2D content director: Zippy Kimundu; Producer: Andy Jones
Inside Tumucumaque
Germany / Filmtank GmbH, Interactive Media Foundation gGmbH / Director: Ina Krüger; Producers: Michael Grotenhoof & Diana Schniedermeier
Stories in maps and data
The Netherlands / Killing Architects / Director: Alison Killing; Producers: Alison Killing & Josie Gardiner
Forgotten War
Czech Republic / Director: Zdeněk Chaloupka; Producer: Jakub Pinkava; Creative producer: Zuzana Tichá
Waterlilies
France, Germany / Camera Lucida / Director: Nicolas Thépot; Producer: Chloé Jarry
#OpenLetterInteractive
Brazil / Tva2 / Director/Creator: Eliza Capai ; Producer: Mariana Genescá
Internet vs Humanity
Denmark, Canada / House of Real / Director: David Borenstein; Producer: Jesper Jack
No Visible Trauma
Canada, United States / Lost Time Media / Creator: Marc Serpa Francoeur; Co-producers: Marc Serpa Francoeur, Robinder Uppal & Geoff Morrison
Invisible Heroes
Brazil / ARVORE Immersive Experiences / Director/Creator: Ricardo Laganaro; Screenwriter: Leopoldo Joe Nakata
Blood Speaks: A Ritual of Exile
Nepal, United States, United Kingdom / Immersive Video Lead / Creator: Kevin Tsukii
Empire Soldiers - A South Asian Story
United Kingdom / Metro Boulot Dodo / Director: Paul Long
Where There's Smoke
United States, United Kingdom / Weiler Productions / Director: Lance Weiler
Khan Sheikhoun
United Kingdom / Read Thread Media / Director: Waad Al Kataeb; Producer: Alex Pearson