Films include a collaboration between Sing Sing prison inmates and a leading contemporary dance company from Turner Prize nominated visual artist Phil Collins.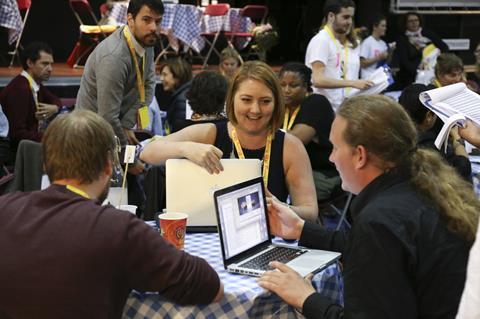 Scroll down for full list of projects
Sheffield Doc/Fest (June 5-10) has revealed the titles that will pitch for funding at its MeetMarket initiative, celebrating 10 years in 2015.
A total of 64 filmmaker teams from 19 countries will pitch to international and UK decision makers for research, development and production funding
At Crossover Market, which includes digital titles, a further 26 interactive projects from 12 countries will pitch in one-to-one meetings to a range of specialist decision makers.
Among the Crossover projects being pitched are the latest from Oscar Raby who won last year's Interactive Audience Award with Assent; and Ram Devineni who attracted funding at last year's Crossover Market and Tribeca New Media Fund for Priya's Shakti.
New pitch opportunities this year include a BBC Radio 1 and 1Xtra Stories commission for young filmmakers, the Guardian Documentaries first ever public pitch and the Reframing Climate Change pitch from the International Broadcasting Trust.
MeetMarket
Last year's Doc/Fest's MeetMarket comprised 1,500 meetings, which resulted in an estimated $12m (£8m) worth of deals. This year the Doc/Fest film programme will include 13 films, which have come through the MeetMarket.
Among the 64 projects pitching at this year's MeetMarket are:
Katrine A. Sahlstrom (prod) and South Korean reporter turn filmmaker Hark Joon Lee (dir) pitching The Rescuer (Republic of Korea) about South Korean pastor Kim and his good intentions or otherwise to find homes in the US for five North Korean orphans;


John MacFarlane (prod) and Lindsey Dryden's (dir) will pitch Billy Tipton Documentary (UK) about the transgender American jazz musician and bandleader who died in 1989 aged 74;


more jazz from the Smoking Dog team David Lawson (prod), Lina Gopaul (prod) and John Akomfrah (dir), who will pitch Miles Davis: The Genius of Cool (UK);


Miriam Chandy Menacherry (prod) and Maheen Zia (dir) will pitch Lyari Notes (India) about a group of girls from Karachi who dare to attend music classes in a school started by a Pakistani rockstar;


Carey Born (dir) will pitch Cyborg: A Documentary (UK) about the cyborg Neil Harbisson who hears sound;


Brian Tilley (prod) and Rehad Desai (dir) will pitch After Marikana – The End of the ANC? (South Africa) which questions whether South Africa can afford not to embark on radical change;


Turner Prize nominated visual artist Phil Collins will pitch Mr. Sing Sing (Germany) about a collaboration between Sing Sing prison inmates and a leading contemporary dance company;


Icelandic producer Margret Jonasdottir will pitch two projects: Dylan Howitt's (dir) Out of Thin Air (UK) about six suspects who confess to two violent murders but their involvement was all in their heads and Hrafnhildur Gunnarsdóttir's (dir) The Vasulka Effect (Iceland) about Steina and Woody Vasulka, now in their 70s, who are determined to deliver an avant garde tech installation at the Tate Modern in 2017;


Charlie Lyne (dir) will pitch Sexual Content (UK), an intimate journey through the tangled world of sex on screen. His look at teen movies, Beyond Clueless, premiered at Doc/Fest last year.
Crossover Market
A parallel version of MeetMarket, Crossover Market offers a pitching opportunity for projects led by digital or interactive media. Returning for a third edition, is open for the first time to international submissions.
Projects submitted to the Crossover Market can work across all media platforms in their delivery, with some going beyond factual media into hybrid genres and fiction.
Among the 26 Crossover Market projects are four Virtual Reality (VR) projects. Selected highlights include:
for VRTOV, Katy Morrison (pro) and Oscar Raby (dir) will pitch new VR project Islands (Australia);


for Rattapallax Productions, Ram Devineni (pro) and Tushar Prakash (dir) will pitch The Karma Killings (India);


for the University of Sheffield Rebecca Mark-Lawson (pro) and Dr Rachel Glenn (dir) will pitch The National Facility for the Regulation of Regret (UK);


for Space Viking Ltd Nelly Ben Hayoun will pitch The Life, The Sea and The Space Viking (Iceland);


for Conijn Film Wout Conijn (pro) and Bregtje van der Haak will pitch VR project White Spots (Netherlands);


for Jumping Astronaut Ltd Paula Moore (pro) and Berta Tilmantaite will pitch Mermology (UK);


for Pulse Films, Faction Films and The Space Tom Costello (pro) and Tim Travers Hawkins (dir) will pitch Unfilmmables (UK). Hawkins' Invisible Picture Show was featured in Interactive at Sheffield two years ago.
Other marketplace opportunities for filmmakers include three new pitches, two new filmmaker competitions, two returning pitches plus Mini MeetMarket, which enables new and emerging filmmakers to pitch their ideas in a roundtable environment.
The Guardian Documentaries Pitch is the paper's first ever public pitch opportunity for a commission worth £5,000, while the International Broadcasting Trust Pitch: Reframing Climate Change, worth £4,000, invites filmmakers to come up with suggestions to reframe climate change to appeal to a mainstream audience.
BBC Radio 1 and 1XTra's documentary brand is offering a £2,000 commission for a short film in an effort to support the next generation of young documentary filmmakers.
The ITN Source Short Film Competition worth £1,000 invites filmmakers to create a short film using footage from the ITN Source archive collection (winners film to be shown at the festival), and the ARRI Short Film Challenge worth £2,000 gives five filmmaking teams access to ARRI's latest AMIRA camera to shoot a short film about Sheffield.
Also returning this year is the BFI Film Fund pitch (won by Dark Horse in 2013) and the Channel 4 First Cut Pitch, which offers one first-time filmmaker a commission from Channel 4 for a 60 min film.
Marketplace executive producer Karolina Lidin along with marketplace manager Anna Parker will head up the Marketplace in 2015. Lidin has executive produced the market since 2008, and developed the first MeetMarket with outgoing Doc/Fest director Heather Croall in 2003. Anna has worked in the Marketplace since 2009.
Full list of projects
50 Shades of Europe w/t // Italy // Dir. Luca Ragazzi // Prod. Gustav Hofer
After Marikana- The End of the ANC? // South Africa // Dir. Rehad Desai // Prod. Brian Tilley
Baby Cold War // Canada // Dir. Julia Ivanova // Prod. Benjamin Landsberger
Bahaus Spirit // Germany // Dir. Kerstin Stutterheim // Prod. Michael Grotenhoff
Billy Tipton Documentary // United Kingdom // Dir. Lindsey Dryden // Prod. John MacFarlane
Block Seven // United Kingdom // Dir. Jordie Montevecchi //Prod. Kat Amara-Korba
Circle // India // Dir. Jayisha Patel // Prod. Ruchi Bhimani
Country for Old Men // Italy // Dir. Pietro Jona // Prod. Enrica Capra
Cyborg: A Documentary // United Kingdom // Dir. Carey Born // Prod. Darren Heath
Deported // Denmark // Dir. Emil Langballe // Prod. Helle Faber
DIY Country // France // Dir. Antony Butts // Prod. Olivier Mille
Do Animals Have Rights? // France // Dir. Bernard Guerrini // Prod. Matthieu Belghiti
Dying to Divorce w/t // United Kingdom // Dir. Chloe Fairweather // Prod. Christina Asquith
Ebola: Death in a Village // Germany // Dir. Carl Gierstorfer // Prod. Antje Boehmert
Even When I Fall // United Kingdom // Dir. Kate McLarnon // Prod. Elhum Shakerifar
Exit // Norway // Dir. Karen Winther // Prod. Eirin Gjørv
Freedom Fields // United Kingdom // Dir. Naziha Arebi // Prod. Flore Cosquer
Generation Jihad // United Kingdom // Dir. Chloe Ruthven // Prod. Martin Herring
Going Viral // United Kingdom // Dir. Colm Quinn // Prod. David Clarke
Healer Heal // Canada // Dir. Mia Donovan // Prod. Bob Moore
The Deep Space (aka Intelligence Inc) // Austria // Dir. Friedrich Moser // Prod. Michael Seeber
Kate Plays Christine // United States // Dir. Robert Greene // Prod. Douglas Tirola & Susan Bedusa
Lawyers // United Kingdom // Dir. Hikaru Toda // Prod. Elhum Shakerifar
Learning to Forget // Denmark // Dir. Kaspar Astrup Schröder // Prod. Katrine A. Sahlstrøm
Less Than Human // United Kingdom // Dir. Chris Kelly // Prod. Christo Hird
Luchadoras // United Kingdom // Dir. Esther Niemeier // Prod. Christopher Pencakowski
Lyari Notes // India // Dir. Maheen Zia // Prod. Miriam Chandy Menacherry
Maestros of the Camps // France // Dir. Alexandre Valenti
Meet the Censors // Norway // Dir. Håvard Fossum // Prod. Ingvil Giske
Miles Davis- The Genius of Cool // United Kingdom // Dir. John Akomfrah // Prod. David Lawson and Lina Gopaul
Mission Rubberman // Australia // Dir. Randall Wood // Prod. Simon Nasht
Mr. Sing Sing // Germany // Dir. Phil Collins // Prod. Phil Collins
Nadia Comaneci, The Girl Who Wanted To Fly // France // Dir. Pola Rapaport // Prod. Dominique Tibi
Nae Pasaran // United Kingdom // Dir. Felipe Bustos Sierra // Prod. Rebecca Day
New Sensation // United States // Dir. Tyler Measom // Prod. Patrick Waldrop
Out of Thin Air // United Kingdom // Dir. Dylan Howitt // Prod. Andy Glynne
Outstare the Stars // United Kingdom // Dir. Various // Prod. Abigail Harding
Persons Unkown // United Kingdom // Dir. Havana Marking // Prod. Aleksandra Bilic
Phoolan Devi: The Life and Legacy of India's Bandit Queen // United Kingdom // Dir. Hossein Martin Fazeli // Prod. Lincia Daniel
PJ Proby: A God Amongst Men // United Kingdom // Dir. Julia Stovell // Prod. Oliver Potterton
Preston and the Black Madonna // Sweden // Dir. Mats Hjelm // Prod. Claes Herrlander
Shared // Netherlands // Dir. Ilja Willems // Prod. Nicolette Nol
Stasi FC // United Kingdom // Prod. Trevor Birney
Symphony of Noise- Matthew Herbert's Revolution // Germany // Dir. Enrique Sanchez Lansch // Prod. Stefan Kloos
Thanksgiving Day // Lithuania // Dir. Jaak Kilmi // Prod. Giedrė Žickytė
The Architecture of Power // United Kingdom // Dir. Ana Naomi De Sousa // Prod. Daniel Davies
The Blues House: A Documentary // United States // Dir. Sam Pollard // Prod. Benjamin Hedin
The Family // Australia // Dir. Rosie Jones // Prod. Anna Grieve
The Golden Dawn Case // Norway // Dir. Håvard Bustnes // Prod. Christian Falch
The Path // United States // Dir. Senain Kheshgi // Prod. Annie Hanlon
The Ransom // France // Dir. Remi Laine // Prod. Valerie Montmartin
The Rebirth of a Genius // Italy // Dir. Fabrizio Galatea // Prod. Massimo Arvat
The Record Man // United States // Dir. Mark Moormann // Prod. Mitchell Egber
The Rescuer // Republic of Korea // Dir. Hark Joon Lee // Prod. Katrine A. Sahlstrom
The Silence of Others // United States // Dir. Almudena Carracedo // Prod. Robert Bahar
The Taliban Hunters // United Kingdom // Dir. Mobeen Azhar // Prod. Jamie Doran
The Unforgiven // Finland // Dir. Lars Feldballe-Petersen // Prod. Ari Matikainen
The Vasulka Effect // Iceland // Dir. Hrafnhildur Gunnarsdóttir // Prod. Margret Jonasdottir
They Fuck You Up // Netherlands // Dir. Klaartje Quirijns // Prod. Pieter van Huystee
Thuli Taking on the Challenge // Netherlands // Dir. Carey McKenzie // Prod. Brechtje Smidt
Transformation // Denmark // Dir. Camilla Magid // Prod. Signe Byrge Sørensen
Unknown Male No. 1 // United Kingdom // Dir. Hugo Berkeley // Prod. Lawrence Elman
Waiting for Invasion: Lithuania's Coundown to War // United Kingdom // Dir. Neringa Medutyte // Prod. James Rogan
What Walaa Wants // Denmark // Dir. Christy Garland // Prod. Anne Köhncke
Sexual Content // United Kingdom // Dir/Pro Charlie Lyne // Prods. Catherine Bray, Anthony Ing