Further cast announced for sporting biopic.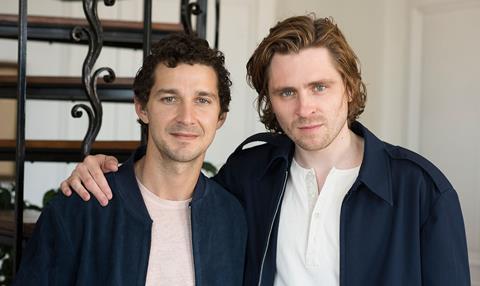 Principal photography has begun on Borg/McEnroe, which will centre on the famous rivalry between US tennis champ Jon McEnroe and Sweden's Bjorn Borg, which came to a head at Wimbledon 1980.
Shia LaBeouf will play McEnroe while rising Swedish talent Sverrir Gudnason plays Borg in the film directed by Janus Metz - director of Cannes-winning documentary Armadillo and episodes of the acclaimed HBO drama True Detective.
The part of Borg's coach Lennart Bergelin will be played by Stellan Skarsgård (The Avengers, Mamma Mia), making his first Swedish production in more than a decade, while Björn's fiancée Mariana Simionescu is to be played by Swedish actress Tuva Novotny (A War, Eat Pray Love).
The part of US tennis playboy Vitas Gerulaitis will be played by Robert Emms (Mirror Mirror, War Horse) while McEnroe's father will be portayed by Ian Blackman (The Bourne Legacy, Hail Caesar!, House of Cards).
Shooting will take place in Gothenburg, Prague, London and Monaco.
The screenplay has been written by Ronnie Sandahl (Underdog). Producers are Jon Nohrstedt (Bamse and the City of Thieves) and Fredrik Wikström Nicastro (Easy Money).
SF Studios Production is making the film in co-production with Film Väst, SVT, Nordisk Film, Yellow Film & TV, SF Studios Production A/S and Sirena Film with support from the Swedish Film Institute, the Nordic Film & TV Fund, the Danish Film Institute, the Finnish Film Foundation and MEDIA with DR & YLE.
The film is distributed by Nordisk Film in Scandinavia and is planned for an autumn 2017 premiere.The film has also secured distribution in more than 15 other countries, with SF Studios handling international sales.
Pre-sales, which kicked off at Cannes, include A-Company (Czech Republic, Slovakia and Hungary), Ascot Elite (GAS), Curzon Artificial Eye (UK), Encore Inflight (Inflight Rights), Pretty Pictures (France), Programs4Media (Bulgaria, Moldova, Romania), September Film (Benelux) and Vendetta Films (Australia/New Zealand).
LaBeouf is represented by CAA and John Crosby Management. Metz is repped by CAA and Cinetic.
Gudnason, Skarsgård, Novotny and Sandahl are repped by Agentfirman Planthaber / Kilden / Mandic.