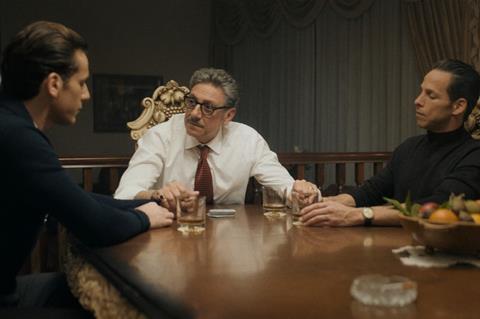 Heading into the Cannes virtual market, busy WaZabi Films has closed US and European sales on Mafia Inc, a key territory on Cannes official selection Nadia Butterfly, and a North American deal on Broken Mirrors starring Unorthodox breakout Shira Haas.
The Montreal-based sales outfit run by Anick Poirier and Lorne Price has licensed US rights on Mafia Inc to Film Movement in the US, Koba Films in France, Belgium, Luxembourg and French-speaking Switzerland, and One 2 See in Dutch-speaking Benelux.
Film Movement plans a digital launch in early winter later this year.
Daniel Grou (aka Podz, Vikings) directed the saga about the son of a mafia tailor who tries to impress the godfather and become a member of the family.
Sergio Castellitto, Marc-André Grondin and Gilbert Sicotte star. Sylvain Guy wrote the screenplay and Antonello Cozzolino, André Rouleau, and Valérie d'Auteuil produced.
Poirier negotiated the deals on behalf of Patrick Roy of Les Films Séville / eOne.
Meanwhile Level 33 Entertainment has secured North American rights to Aviad Givon and Imri Matalon's Broken Mirrors starring Haas in an earlier film role before her success in Netflix hit Unorthodox.
Yiftach Klein, Renana Raz, Manuel Elkaslassy, Yoav Rotman, Liora Rivlin, and Yaakov Daniel Zada also star in the Hebrew-language Israeli drama. Haas plays a teenager who discovers a secret in her strict military father's past that leads to a confrontation.
Givon and Matalon wrote the screenplay and the producers include Liora Landau and Ronit Reichman for Viola Productions.
Poirier negotiated the deal on behalf of Patrick Roy and Les Films Seville/Seville International with Andreas Olavarria of Level 33.
Earlier in the week it emerged that WaZabi had closed a French deal with Les Alchimistes for Cannes official selection Nadia, Butterfly, Pascal Plante's feature about an Olympic swimmer in her 20s facing retirement.
Poirier will launch sales at the Cannes virtual market.