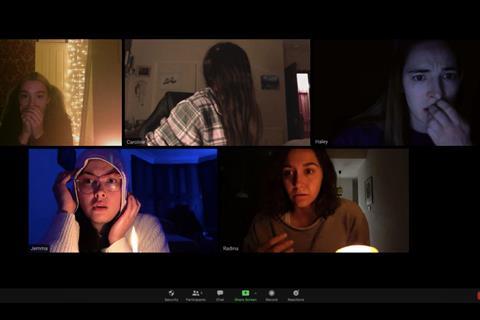 Rob Savage's viral hit Host is to receive a theatrical release in the UK and Ireland through Vertigo Releasing following a deal with Shudder.
The UK horror, which takes place over a Zoom video call, debuted on AMC Networks' streaming service Shudder in the UK and North America on July 30 and has proved a cult hit, scoring 100% on critic aggregation site Rotten Tomatoes.
Vertigo now plans to give Host a day-and-date release on December 4, comprising a wide theatrical opening and making the film available to rent and buy on all major digital platforms such as Amazon, iTunes and Sky. It will preview in select cinemas across the UK and Ireland in October to coincide with Halloween and will continue to be available on AMC Networks-owned subscription service Shudder.
Directed by Savage during the Covid-19 quarantine and based on a two-minute short he created at the start of lockdown, the film centres on six friends who mistakenly invite a demonic presence into their homes during an online séance.
As the film was made during the pandemic, all filming took place remotely, with the actors effectively becoming camera operators and special effects technicians. The cast includes Haley Bishop, Radina Drandova, Jemma Moore, Caroline Ward, Emma Webb and Edward Linard.
Savage, who was named a Screen Star of Tomorrow in 2013, wrote the script alongside Jed Shepherd and Gemma Hurley. Producer is Douglas Cox of Shadowhouse Films.
The filmmaker recently struck a three-picture deal with US genre studio Blumhouse, which will finance and co-produce the projects.
Savage first drew attention in 2012 with micro-budget feature Strings, which he wrote, directed, filmed, co-produced and edited aged 17. It premiered at the Rome Film Festival, was released via the BFI and won Savage the Discovery Award at the British Independent Film Awards, making him the younger director to ever win a BIFA.
His 2017 short Dawn Of The Deaf played at more than 100 film festivals including Sundance and was shortlisted for a Bafta. Savage has also directed three episodes of Sky fantasy drama Britannia among other projects
Vertigo Releasing previously partnered with Shudder in 2018 on the UK and Ireland release of Coralie Fargeat's Revenge.