EXCLUSIVE: IM Global records deals on reunion of M Night Shyamalan and Bruce Willis with France, Italy and Japan, among others.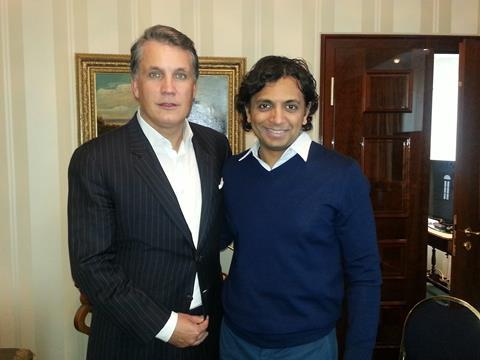 Fifteen years after they rocked the world with The Sixth Sense, the reunion of M Night Shyamalan and Bruce Willis has proved irresistible to buyers of IM Global's Labor Of Love.
Deals have closed with France (Metropolitan), Italy (Andrea Leone), Latin America (Gussi), Japan (Shochiku), Canada (VVS), Scandinavia (Svensk), Benelux (Dutch Filmworks) and Middle East (Italia).
Shyamalan himself stopped by IM Global's offices during the market to outline his vision to buyers in a series of intimate meetings.
The story, based on his first ever screenplay, tells of a book store owner who honours his late wife's wish by embarking on a cross-country walk. Emmett/Furla Films is producing.
"People like it and have bought into Night and Bruce doing a movie together again," said IM Global founder Stuart Ford. "It's a crowd-pleaser."
Ford also hosted a presentation for buzz title Max Steel with partners Dolphin Films International and toy giant Mattel.
Open Road will release the family adaptation in 2015 and Ben Winchell and Ana Villafañe are set to star.
"It's a new experience for us," said Ford. "It's a partnership with Mattel in every territory. That's the kind of relationship that independent companies don't get access to very often."