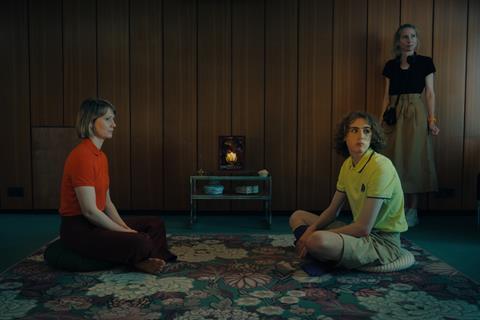 Danish actor Sidse Babett Knudsen and British-Egyptian star Amir El-Masry have joined the cast of Little Joe filmmaker Jessica Hausner's Club Zero, as the shoot commences in Oxford, UK.
France's Elsa Zylberstein and Mathieu Demy are also set to star, alongside the previously announced Mia Wasikowska.
The first image from the production has also been released, featuring Hausner directing Wasikowska and newcomer Luke Barker.
Club Zero is an intense psychological drama set in an elite school and stars Wasikowska as a new teacher who forms a strong bond with five of the students, which takes a dangerous turn.
Babett Knudsen plays the school principal while El-Masry – a Screen Star of Tomorrow 2021 – stars as another teacher. Babett Knudsen and El-Masry both previously appeared together in Ben Sharrock's Limbo.
Zylberstein and Demy play parents, alongside Amanda Lawrence, Sam Hoare, Keeley Forsyth, Lukas Turtur and Camilla Rutherford. The five young up-and-coming actors playing the students are Barker, Samuel D Anderson, Florence Baker, Ksenia Devriendt and Gwen Currant.
After six weeks in the UK, the shoot will move to Austria for a further two weeks. Delivery is scheduled for spring 2023.
The film is being produced by Coop99 (Austria), Essential Films (Germany), Club Zero Ltd. (UK), Parisienne (France) and Paloma Productions (Denmark). World sales are being handled by Coproduction Office.
Producers are Bruno Wagner, Philippe Bober, Mike Goodridge, Johannes Schubert and Per Damgaard Hansen. BBC Film's Eva Yates is executive producer.
The film is being financed with the support of Austrian Film Institute, Vienna Film Fund, Film Industry Support Austria (FISA), Medienboard Berlin-Brandenburg, Eurimages, ARTE France Cinema & ZDF/Arte (Grand Accord), ORF (Film/Television Agreement), the Danish Film Institute and BBC Film.
Club Zero is the sixth feature and second English-language feature from Austrian filmmaker Hausner. Her last film, Little Joe, premiered at Cannes in 2019 and won the best actress award for Emily Beecham. Hausner has been in Cannes sections with all her previous films except Lourdes, which played in competition in Venice in 2009.