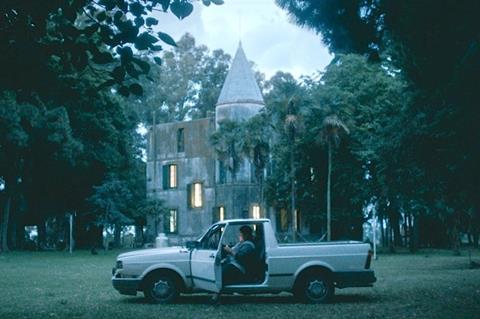 The main industry prizes of Sebastian have been announced, with awards going to Bruno Santamaría's Six Months In The Pink And Blue Building, Selman Nacar's Hesitation Wound, and Martín Benchimol's The Castle.
The 11th Co-Production Forum best project winner, Six Months In The Pink And Blue Building, marks the third directing credit from cinematographer-editor Santamaria and is told from the perspective of 10-year-old Bru, who is attracted to his friend Vlady and learns that his father has been diagnosed with HIV, sending shock waves through his family.
The film is produced by Guillermo Ortiz of Mexico's Ojo de Vaca. Santamaria's previous directing credits, Things We Dare Not Do and Margarita, demonstrated the arrival of a strong personality working in the arena of documentary and LGBTIQ+ issues.
Nacar's Hesitation Wound took both the WIP Europe Industry Award and WIP Europe Award and is a co-production between the director's Kuyu Film, Karma Films and Fol Films (all from Turkey), France's Arizona Films, and Romania's Libra Films.
Nacar won both prizes in 2021 with Iki Safak Arasinda, his feature debut. In Hesitation Wound, the director depicts the life of a criminal lawyer working in a smalltown courthouse by day, while his nights are devoted to caring for his mother at the hospital. When his worlds collide, the man will be forced to make a moral decision.
The WIP Latam Industry Award went to Benchimol's The Castle, a production between Argentina's Gema Films and Mayra Botter, with France's Heidi Fleisher and Sister Productions as co-producers. The film recounts the bittersweet tale of a housemaid who suddenly inherits a fabulous mansion in Argentina's La Pampa province, albeit one which is falling to pieces.
Yesterday Berlinale's World Cinema Fund Europe programme announced that The Castle has been granted a "funding recommendation".
San Sebastian industry awards 2022
Latin America 11th Co-Production Forum Best Project Award
Six Months In The Pink And Blue Building
Dir: Bruno Santamaría Razo
Prod: Ojo de Vaca (Mex)
Dale! Award (Development Latin America-Europe)
Six Months In The Pink And Blue Building
Artekino International Prize
Madre Pájaro (CR-Arg)
Dir: Sofía Quirós
Prod: Sputnik Films
Film Center Serbia Award
The Fire Doll (Chil-Fr)
Dir: Niles Atallah
Prod: Globo Rojo Films
WIP Europe Industry Award
Hesitation Wound (Tur-Fr-Rom)
Dir: Selman Nacar
Prod: Kuyu Film

WIP Latam Industry Awards
The Castle (Arg-Fr)
Dir: Martín Benchimol
Prod: Gema Films
Egeda Platino Industria Award For The Best WIP Latam
The Castle
Projeto Paradiso First Prize
A Strange Path (Bra-Por)
Dir: Guto Parente
Prod: Tardo Films
Projeto Paradiso Second Prize
A House In The Country (Bra-Fr-Arg)
Dir: Davi Pretto
Prod: Vulcana Cinema

18th Lau Haizetara Documentary Co-Production Forum Awards
Ibaia – Bilibin Circular Award
Carapirú: El Superviviente (Sp-Fr)
Dir: Aner Etxebarria, Pablo Vidal
Prod: Federation Spain
Distribution And Festival Consultancy Treeline Award
El Silencio De Las Hormigas (Sp)
Dir: Francisco Montoro
Prod: Apnea Films
Ibaia - Elkargi Award
El Silencio De Las Hormigas
Ikusmira Berriak Award (Irusoin Post-Production Award)
Bandeira (Bra-Fr)
Dir: João Paulo Miranda Maria
Prod: Les Valseurs