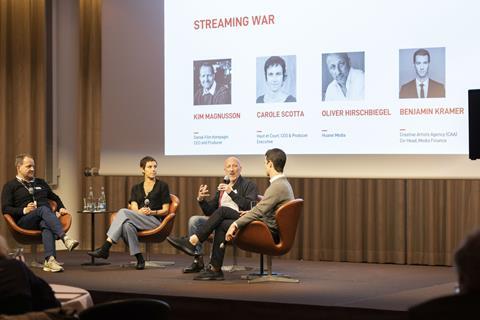 The one-day Zurich Summit gathered top executives from the US and Europe and Asia to discuss industry changes including the rise of the platforms, and the growth in popularity of local-language content at the Dolder Grand on Saturday, September 28.
New this year was a series of intimate roundtables which enabled rising talents to meet established international executives including UTA's Alex Brunner, CAA's Roeg Sutherland, Rocket Science's Thorsten Schumacher, and producer Kim Magnusson, in a private setting.
A creative highlight was a preview clip of Farmageddon, also screening at Zurich Film Festival. It was presented by directors Richard Phelan and Will Becher who brought Shaun the Sheep puppets to show the audience. Becher noted the film was made with 30 animators working simultaneously, averaging 1.5 seconds of the film per day per animator.
The Summit was organised by Spoundation Motion Picture in association with the Zurich Film Festival.
There is a huge opportunity for local-language stories
"We are in a great renaissance. There are so many fantastic shows being made around the world," said Robert Lazar, founder of the US' Marathon Management. "Netflix is maybe a bad word in some communities but they have opened everyone's eyes to shows we might not have seen – French shows, Israeli shows, Italian shows, and more."
Roeg Sutherland, co-head of media finance, CAA, pointed out: "Netflix, Amazon, Apple, Disney, Warner Bros, Hulu – these platforms can't enter Europe, Latin America or Southeast Asia without spending 20% of their budget on local content. Where I think the future is, is local. There will be global tentpoles and American independent films that crossover of course, but really where I think the focus is making movies for your own market and hope they cross over. We have Netflix to thank for this."
Vincent Maraval, co-founder, Wild Bunch added: "The platforms working with foreign-language film has opened the market tremendously. Usually, a foreign-language film would just open in a capital city, now it can be seen everywhere on Netflix. Netflix is probably the biggest client of French cinema by far. That has helped a lot for international films, the foreign-language films."
Angus Sutherland, vice president of production at the US' New Republic Pictures, admitted US execs do not always know the global market - that's where they need to listen. "You need to have a network of people to rely on, including your international sales agent. Our office is more international than it's ever been. Our development group comes from four different countries."
Datta Dave, partner in Indian management agency Tulsea, explained Bollywood's traditional family dynasties are making way for other new talents. "From a talent perspective, it's very exciting. The streamers have been fanatic for writers, it's been a great democratisation and they can manage their own destiny a bit."
Different talent works in different territories, according to Rena Ronson, head of independent film group at UTA: "Talent doesn't have to be A-list, it could be someone who resonates in a particular territory. Adam Sandler translates well in Latin America, where Netflix wanted to build its business. You don't know who might mean what, where."
National broadcasters are evolving with the times
Nathalie Wappler, director of Switzerland's SRF, said: "If there are opportunities we will look at it. Of course, it's interesting for us to cooperate with Netflix."
Gilles Marchand, director-general of Switzerland's SRG added: "The key point is always to be able to explain to the people how we are using the license fees…but we want to have an open-minded strategy."
The UK broadcasters are also working successfully with non-UK talent when appropriate. BBC Films has projects in the works with Eliza Hittman and Jane Campion and is working with Paramount on the debut feature by YouTube sensation Rapman. Rose Garnett, director of BBC said, "Part of public service is: How can we build a landscape with new voices? How can we bring stories to people the way they want it in the mainstream? How can we give a generation of filmmakers a place at the table so they can tell their stories? It's about making films that the market won't necessarily make because they don't know they want them yet."
Garnett added: "Part of being a public service broadcaster is really knowing what your mission is, but it's also reinventing what we do for the next generation."
Ollie Madden, head of creative at Film4 agreed: "We can't really make films for just the British market, we want our films to travel internationally…We have to be flexible, every film is different. You have to move with the time."
Retaining IP is crucial
CAA's Roeg Sutherland advised success comes with "controlling as much of your rights as possible…. If you lose ownership of your IP you should leave the business."
Maraval added: "If you want to really do business you need to protect your upside, that's your only safety …you aren't the employee of the platform."
Whitney Sudler-Smith, founder of US outfit Vainglorious Productions said: "It's harder these days to own formats, but that's the way to go in global television is to sell formats, that's where a lot of money can be made." He recently licensed a Chinese competition show format called Super Vocal.
Talent is also keen to get more involved in the DNA of a film. Malte Grunert, who owns German production outfit Amusement Park with actor Daniel Bruhl, noted Bruhl will make his directorial debut on German-language gentrification-themed dark comedy Next Door.
Financier Vania Schlogel, CEO of Los Angeles-based Atwater Capital said: "There is branding power from owning premium content, good IP is one of the unique asset classes that can appreciate in time, compared to a lot of things we invest in."
Platforms offer new opportunities
Marathon Management's Lazar said TV offers a great opportunity for writes. "To rule the roost and be true to their voice," he said. "Dramas in film are hard to sell, dramas in TV are relatively easy to sell. Huge filmmakers and huge actors are doing TV, if it's good enough for Meryl…. "
German director Oliver Hirschbiegel is known for cinema hits including Downfall and recently worked with Netflix for the first time on series Criminal. "My main focus as a filmmaker is that I can reach as many people as possible. Without vanity, I want the maximum number of people to see the work. Right now it seems the platforms give possibilities that we didn't have before. I am discussing other projects with Amazon and Sky, there is so much going on compared to the past."
Kim Magnusson, CEO of Denmark's Dansk Film Kompagni, has a first-look deal with Netflix to make films. "The streamers are coming. They have become part of the normal financing structure that was dying out, especially for a local-language small film. The money they are buying that for is less than old days, but because there is so much new content, they are becoming the saviour of our industry. [Streamers like Hulu, Peacock and more] are all going sit here and look for creative people throughout Europe, throughout the world. They want local content they can show."
Magnusson noted Netflix is producing 100 feature original films this year, more than the combined output of the traditional studios.
CAA's Sutherland said: "There's never been a bigger need for content, ever." And Sudler-Smith responded to the suggestion this is the "18thgolden age of TV" by saying this is now"the platinum age."
China is constantly evolving
UTA agent Alex Brunner suggested: "[The Chinese audience] are becoming more sophisticated moviegoers, more populations are going to the cinema in the smaller cities, they are really finding these movies [like Capernaum]."
Dede Nickerson of Huanxi Media, who has worked in China for 25 years gave some context: "From 2009 to 2016, there was way too much capital in the Chinese market, everybody was chasing a deal, most studios were doing slate financing deals. Now there is more discipline in the marketplace. There is less insanity. I'm much more optimistic because the marketplace has sobered up. There is less capital for slate financing deals but the money for making good content is still there. "
Nickerson added: "In addition to the mass audience, there is a very sophisticated white-collar audience that appreciates more arthouse or curated cinema. It's going to be interesting to watch this in the next 12 months because of the Sino-US trade situation. It's easier to get international, non-American content in. Japanese content, Spanish-language content, European films are getting much more play and I think that will be growing."
"Nadine Labaki's Capernaum made more than $60m in China, " CAA's Sutherland pointed out.
Theatrical is hard, but not dead
Patrick Wachsberger, producer at the US' Picture Perfect Entertainment made the point that all of the independent distributors around the world need theatrical movies. "But for a movie to really work theatrically it has to check all the boxes," he cautioned. "You have to decide if a project for a theatrical movie or is it going to a streaming platform? It's tricky. I don't believe the foreign sales business is dead, but it's much more complicated."
Emilie Georges of Paris-based Memento Films International, made a widely-recognised point: "The high level of TV series is impacting the film industry, the audience is becoming more and more interested in having films that are fully developed. For us, as a sales company, we need a very strong vision of directors combined with a high level of development."
Film4's Madden said: "For films to break out theatrically they've got to be different and innovative, they have to present an experience – even if that is simply a strong emotional experience. Something that's just 'solid' doesn't' cut it anymore."
Thorsten Schumacher of London-based production, sales and financing outfit Rocket Science agreed: "The bullseye has gotten smaller."
Carole Scott, CEO of French sales company Haut et Court, admitted she was worried about the decline of cinema audience but was ultimately optimistic. "Film is a collective experience," she said. "I believe the experience will still go on."
"It's our job to sustain the independent film business worldwide," suggested UTA's Ronson. "What will make people go to the theatre? You have to have something that will stand out."
Schumacher of Rocket Science said: "We are seeing the disruption in the film industry that music and books had before. The agent is less just about selling and more advising the producer the best model to make or exploit, is it going to a studio, is it pre-selling or waiting, and what is the best financial model for this movie? There are no rules or restrictions."