Josefine Frida Pettersen, who plays Noora in the hit Norwegian teen series Skam, makes her film debut in Disco, the new film directed by Norway's Jorunn Myklebust Syversen.
Screen can reveal the film's first image below.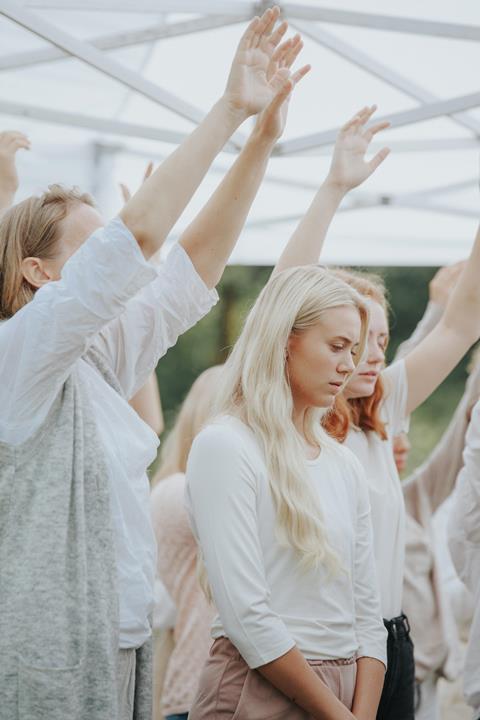 Pettersen stars as 19-year-old Mirjam, the world champion in freestyle disco dancing who starts questioning her faith after suffering panic attacks during a competition. When she is no longer able to dance, she looks for answers with a fundamentalist Christian congregation.
Pettersen, now 22, was also a dancer in her teenage years. She said, "Playing the lead in Disco was an intense and inspiring experience. I'm very happy to make my film debut with a director like Jorunn who has a unique vision, and be part of a film that deals with issues that affects a lot of young people."
Because of the cult status of Skam, she has 1.8m followers on Instagram.
Disco's cast also includes Nicolai Cleve Broch (Beforeigners), Andrea Bræin Hovig (An Affair) and Espen Klouman Høiner (Reprise).
Syversen's 2017 debut feature The Tree Feller was nominated for two Amanda Awards.
The director said,"Josefine's presence and ability to listen and tune into the people she is acting with is unique. She is one of the most talented, wise and hardworking people I have met. Our dialogue was very important to the development of the script and the character. Disco is a film about the balance of power in relationships and environments and the growth of religious groups."
Disco will be presented in the works in progress at Goteborg's Nordic Film Market tomorrow (Feb 2).
Maria Ekerhovd of Mer Film, who also produced The Tree Feller, said, "Jorunn takes the audience into a very specific milieu and shows us characters that we normally don't get to see portrayed in film. She has an important and provocative story to tell and her film style is both original and visionary."
The film has not yet attached a sales agent. It is in post now for delivery later this year. Mer Film will also handle the Norwegian theatrical distribution in autumn 2019.
Mer Film's credits include Iram Haq's acclaimed What Will People Say.
The company is also presenting its web series Clone by actor, writer and director Ole Giæver at Berlinale CoPro Series.