Russian Ark director hopes to take Francofonia, Louvre Under German Occupation to the next Cannes Film Festival.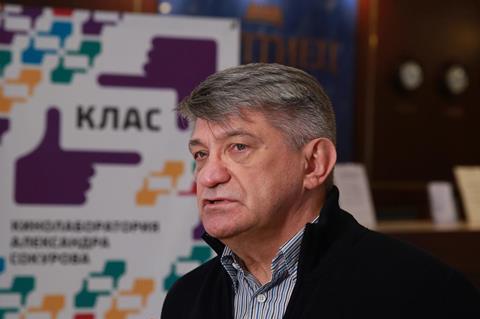 Russian director Alexander Sokurov hopes to premiere his latest feature project Francofonia, Louvre Under German Occupation at Cannes next May
Speaking exclusively to ScreenDaily at his Cinema Lab (C.L.A.S.S) in Repino during this week's Saint Petersburg International Media Forum (SPIMF), Sokurov revealed that "both Berlin and Cannes have shown interest in the film, but it is for the producers to make the final decision".
"It seems to me that with this particular film should have its premiere in Cannes because of its subject and because Cannes is less political than Berlin," he added.
Sokurov explained that post-production on the film is continuing parallel to his involvement in this week's inaugural SPIMF.
"There is actor dubbing being done in Paris and Berlin and we will be recording the music with a large symphony orchestra in Amsterdam. I think that we will complete the final edit in Berlin and have the film complete by the first week of December," he said.
The co-production between France's Idéale Audience, Germany's zero one film, Holland's N279 Entertainment, ARTE France Cinéma and Musée du Louvre explores the question of relations between art and war through a journey into the Louvre.
Franconia is being distributed internationally by Berlin-based sales agent Films Boutique, which handled Sokurov's previous film, Faust.
However, the director is not confident about Francofonia being shown in Russian cinemas: "We don't even know if we will be screened in Russia because distrbutors are not interested in serious films.
"It is more important for me that the film is seen by the people in Europe because I have put a lot of ideas in the film about the contemporary European audience.
"It is very optimistic film. I want to give them an optimistic view from a Russian author of the audience, particularly in these difficult times."
Sokurov's Cinema Lab
This year saw Sokurov giving his name to the Media Forum's own Talent Campus-style venture, Cinema Laboratory of Alexander Sokurov (C.LA.S.S), which selected 80 non-professional film-makers coming from all corners of the former Soviet Union - from Brest to Vladivostok, from St Petersburg to Odessa and Tashkent to gather in "a creative space where acclaimed professionals treat young amateur filmmakers as their colleagues".
The budding film-makers had opportunities from such seasoned professionals as directors Victor Kossakovsky, Bakur Bakuradze, Nikolay Khomeriki, Lyubov Arkus, pitching expert Anna Gudkova, producer Igor Tolstunov and film critics Vasily Stepanov and Konstantin Shavlovsky.
"Most of them are professionals in other fields - they have other jobs - but it's unbelievable what they know about this profession of film-making," Sokurov explained.
"In their films, they are interested in the everyday life of regular normal people. I was afraid that they could be too politicised with all of today's activities, but I am very surprised that there is less politics than I could imagine and there is more of a focus on the inner life of regular people with little dependency on social motives.
"I think this is a very good trend because they are not dependent on the current political situation and can express themselves more freely and are not following propaganda. My observation is that young European and American filmmakers try to explain their problems in socio-political terms, but in Russia it is totally the opposite: they look to find the key to their problems inside rather than on the outside."
Sokurov had organised a similar event in Repino during the St Petersburg Kinoforum in July 2011, but pointed out that there have been "many changes in the meantime" both in the technology and the approcah of amateur film-makers.
"The young generation is more sophisticated and have a much more open attitude," he added.
"The internet has given them many new skills and they are much freer and their professionalism is unbelievable. But around 90% of them never learnt cinematographic skills at any school. It is quite quite striking.¨
OTHER NEWS
Konchalovsky's Postman has TV premiere
Russia's First Channel will premiere veteran director Andrey Konchalovsky's latest feature The Postman's White Nights in its schedules next week, on Oct 19.
Handled internationally by sales agent Antipode Sales & Distribution, the film premiered at the Venice Film Festival last month where it won a Silver Lion for Best Director.
"I don't know if there will be a theatrical distribution," Konchalovsky said in a communiqué by the broadcaster.
"It is important to me that a maximum number of people have the possibility to see the film - firstly, with not having to pay any money. Secondly, they can turn it off if it bores them. I will value all those people who watch the film right through to the end."
Last week, he withdrew the film from consideration by the Russian Oscar selection committee, issuing an open letter to recall that, in the past, he had "harshly criticised the Hollywoodization of the Russian market and the pernicious influence of American cinema on the forming of our cinema-goers tastes and preferences."
He concluded that it would therefore have been ¨simply absurd¨ for him to have his film compete in the Foreign Language Feature Film category at the Academy Awards.
Meanwhile, his brother, actor-director-producer Nikita Mikhalkov has spoken out in favour of Kiss Them All (Gorko!) rather than Zvyagintsev's Leviathan as the Russian submission for the Oscars.
"An honest regulation must operate here. Double standards are not possible," he declared to RIA-Novosti. "If the colleagues nominated Andrey Zvyagintsev's Leviathan for the Oscar, then it should go to the Oscars. I personally consider that if you are meaning national cinema, then this is, of course, Kiss Them All.¨
He added that there would be a breach of the [Academy Awards'] regulation if Leviathan hadn't been shown in a cinema for a week.