Oscar-winning director also planning an English-language feature.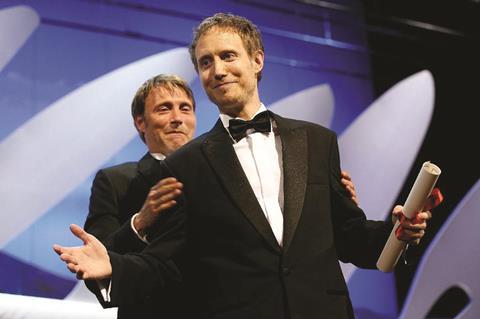 Hungarian filmmaker Laszlo Nemes, whose Oscar-winning debut Son Of Saul opens in the UK later this month, has revealed plans to shoot his second feature next year.
Speaking to ScreenDaily, Nemes said he hoped to shoot Sunset in Budapest in spring 2017 and that he would work with the same crew, including cinematographer Matyas Erdely, from Holocaust drama Son Of Saul.
"We've already started testing and I'm looking forward to working with the same crew," said the 39 year-old director.
Sunset will centre on a young woman in Budapest before the First World War and will be produced by Gabor Sipos and Gabor Rajna of Hungary's Laokoon Filmgroup, the production company behind Son Of Saul.
In a previous interview with Screen, Nemes said the film will be set in 1910, when the city was cosmopolitan, tolerant and full of inhabitants from different cultural and religious backgrounds.
"[The Nazis] killed all of that. The 20th century transformed Hungary into an ethnically pure country in a way," said Nemes.
"It's a coming-of-age story, also a thriller, the story of a young woman in Budapest. It takes place in a very important moment, before the First World War and before civilisation starts going into the darkness."
Casting
The director said he was still looking to cast the female lead.
As for reuniting with Geza Rohrig, who played the title role in Son Of Saul, Nemes said: "If we can find something interesting, I'd like to work with him again. But it's still very early."
Son Of Saul holds the camera on the title character throughout the film and "the importance of the POV will be affirmed in [Sunset] as well, but in a different way," said the director.
Shooting and editing on 35mm
As with Saul, Nemes plans to shoot on 35mm and – adding a greater challenge – plans to edit on 35mm, which would prove a rare feat as the majority of productions are now assembled using digital technology.
"Computers make life easier from an organisational, logistical point of view but I think the magic of cinema lies in the craftsmanship," he said. "For me, editing was the least exciting part of making [Son Of Saul]. If there's nothing physical, I get bored.
"When you have to make a cut on a Steenbeck [flatbed editor], you have to think 10 times before making that cut. It prepares in the mind in a different way and I think prepares the audience for the magic as well."
Nemes may encounter similar problems to Ken Loach, who struggled to find materials to physically cut his 2014 film Jimmy's Hall, until Pixar came to his aid.
English-language film
The Hungarian filmmaker, who spent time in Los Angeles earlier this year when his film won Best Foreign-Language Film at the Academy Awards and Golden Globes, also revealed plans to make an English-language film after Sunset.
"I want to make an English-speaking project after the one that will shoot next year," said Nemes, who did not rule out working with the US studios. "It depends on the deal but I'm not against that," he said.
Asked if he would make a superhero film, Nemes added: "Maybe I would. There is room for a different kind of filmmaking in Hollywood, which has narrowed to a very conventional, computer graphic storytelling.
"I think there's room for change there. I like films that can surprise me and there's still room for that."
Son Of Saul, which won the Grand Jury Prize and FIPRESCI Prize when it premiered at Cannes last May, will be released in the UK by Curzon Artificial Eye on April 29.