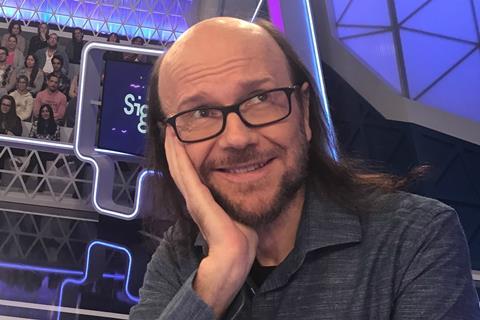 Sony Pictures International Productions has come on board to jointly produce with Bowfinger International Pictures Santiago Segura's Spanish comedy Ten Days Without Mom (Padre No Hay Más Que Uno).
Filming on the marquee production has kicked off in Madrid based on a screenplay by Segura and his Empowered co-writer Marta González de la Vega. Segura is the three-time Goya Award-winner and creator of the smash Torrente franchise, and runs Bowfinger International with María Luisa Gutiérrez.
Segura plays Javier, a "marido-cuñao" husband who knows nothing about housework or childcare and is forced to stay home alone with his five children when his wife, played by Toni Acosta (Empowered, Yucatán, My Big Night), goes on a trip.
Production will take place over the next six weeks in the Spanish provinces of Toledo, Guadalajara, and Madrid. Sony Pictures Entertainment Iberia will release the film on July 26, and Sony holds worldwide distribution rights. FilmSharks chief Guido Rud brokered the deal with Sony.
Bowfinger International Pictures, Sony Pictures International Productions, and Mamá Se Fue De Viaje La Película A.I.E. are producing Ten Days Without Mom in co-production with Cindy Teperman and Mogambo.
"I've always felt challenged by the idea of making a movie that could be enjoyed by all audiences, without age restrictions," said Segura. "I wanted to do this within the only genre I feel comfortable working – the comedy – and get laughs from the audience in return. And here we are, in my first family comedy."
Iván Losada, managing director of Sony Pictures Entertainment Iberia, said, "We are thrilled that we have finally found the ideal project to work with our good friends Santiago Segura and Maria Luisa Gutierrez. We are sure the enormous natural talent of Santiago for the comedy here dedicated to such a current issue in society, will make this film one of our great bets of this year."
Besides the Torrente series, Bowfinger International's credits include Empowered, You Shall Not Sleep, El Asombroso Mundo De Borjamari y Pocholo, Una de Zombis, and Serious Killer.
The company also produced Argentinian co-productions such as Las Grietas de Jara from Nicolás Gil Laavedra and Perdida from Alejandro Montiel for Netflix, Animal from Armando Bo, and upcoming spring release Qué Te Juegas, a comedy from Inés de León.