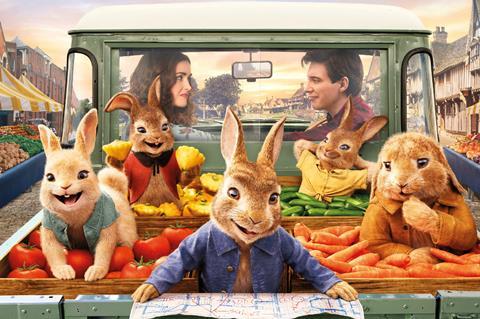 Sony Pictures has shuffled its release calendar and pushed back Peter Rabbit 2: The Runaway from January 15 2021 to Easter weekend on April 2 2021.
In other changes, Screen Gems' Milla Jovovich horror thriller Monster Hunter will open on Imax on December 25 this year, five days earlier than previously set.
Fatherhood moves off Peter Rabbit 2's new slot and is pushed back by two weeks to April 16, 2021.
Will Gluck directs the Peter Rabbit sequel based on the characters created by Beatrix Potter. The cast includes Rose Byrne, Domhnall Gleeson, David Oyelowo, Elizabeth Debicki, Margot Robbie, and James Corden in the lead role.
Paul W.S. Anderson directed the video game adaptation Monster Hunter and the producers are Jeremy Bolt, Anderson, Dennis Berardi, Robert Kulzer, and Martin Moszkowicz.
Jovovich stars as a warrior who finds herself and her unit in a mysterious domain inhabited by lethal beasts. Tony Jaa and Ron Perlman also star.
Drama Fatherhood is directed by Paul Weitz and based on the book Two Kisses For Maddy: A Memoir Of Loss & Love about a man who raises his daughter after his wife dies.
Kevin Hart, Alfre Woodard, Lil Rel Howery, DeWanda Wise, Anthony Carrigan, and Paul Reiser star.