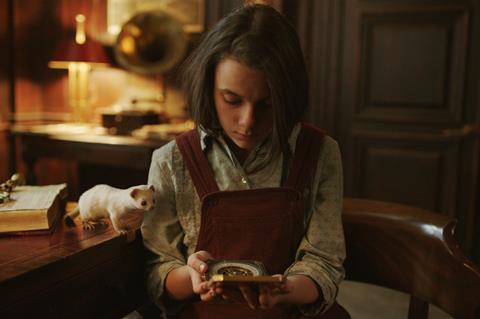 Sony Pictures Television (SPT) is on the brink of acquiring scripted production powerhouse Bad Wolf, Screen's sister site Broadcast has learned.
The His Dark Materials producer, co-founded in 2015 by Jane Tranter and Julie Gardner, is set to join Left Bank Pictures-owner Sony in a deal thought to be worth close to £60m.
Existing minority shareholders Access Entertainment and Sky / HBO are expected to have their respective 24.9% and 10% stakes bought out as part of the agreement, leaving Sony as sole majority shareholder.
A rival bidder is understood to have offered a higher sum, but the indie is understood to have considered Sony the best cultural fit for the business.
Some of that will likely stem from the shared history between Tranter and SPT president of international production Wayne Garvie.
The pair worked together at the BBC in the early 2000s in drama and entertainment respectively, and again at BBC Worldwide (now BBC Studios) in 2009, after Tranter began heading up the production arm's US operations, reporting to Garvie.
They worked together until his departure in 2010, with Tranter staying on board until she launched Bad Wolf six years ago.
Other contributing factors in the deal are thought to include the speed at which Sony has moved and its willingness to support the Welsh presence of the Cardiff-headquartered producer. The Bad Wolf Wales studio facilities is based in the capital and is used to film His Dark Materials, A Discovery of Witches and Industry.
Broadcast revealed the indie was up for sale in September, with GCA Advisors leading the process.
Bad Wolf has enjoyed a purple patch of late, having generated revenues of £90m in 2019, up 80% year-on-year. Turnover slipped back to £65m in last year's Covid-impacted results.
Late last month, Bad Wolf was named as a partner on BBC Studios' BBC1 juggernaut Doctor Who, following the end of the Chris Chibnall era. Filming will start next year on the show, which will air as its 60th anniversary series in 2023 with Russell T Davies at the helm.
Next year the third and final instalment of BBC1 adaptation His Dark Materials will air, with conversations underway about opportunities to expand Philip Pullman's universe, while Sky's Discovery of Witches will also return for a third outing.
Separately the second series of BBC2 / HBO 'square mile' thriller Industry will return, with Sky Atlantic also lining up a return for Billie Piper and Lucy Prebble's I Hate Suzie, which was named Best Drama at last week's Broadcast Digital Awards.
Bad Wolf and SPT declined to comment.