Amy Pascal, the Sony exec whose emails were made public as part of a hacking scandal at the studio, is to leave her co-chairman position to launch a new production venture at the studio.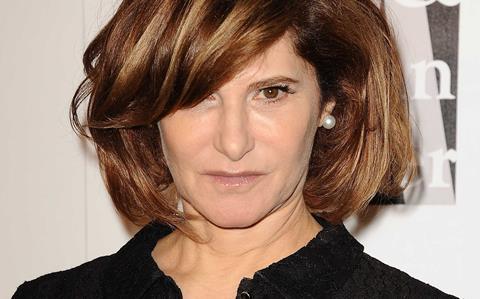 Pascal will "transition" to the new role in May 2015, according to a statement from the US studio.
Her new company will focus on film, television and theatre.
As part of a four-year agreement, Sony Pictures will finance the venture and retain all distribution rights worldwide to films financed. Her company will be based on the Sony Pictures lot.
Pascal was caught up in a scandal last November when hackers released Sony executives' e-mails, including racial remarks about President Barack Obama's taste in films in messages between Pascal and producer Scott Rudin. Both have since issued public apologies.
The hackers, linked to North Korea according to the FBI, were trying to stop the release of Seth Rogan comedy The Interview, about a plot to kill leader Kim Jong Un.
It was released in a limited number of theatres and VOD.
Pascal has led the Sony's film division since September 2006, reporting to Michael Lynton, chairman and CEO of Sony Pictures Entertainment.
Pascal, who joined Columbia Pictures in 1988, said: "I have spent almost my entire professional life at Sony Pictures and I am energised to be starting this new chapter based at the company I call home.
"I have always wanted to be a producer. Michael and I have been talking about this transition for quite some time and I am grateful to him for giving me the opportunity to pursue my long-held dream and for providing unparalleled support.
"As the slate for the next two years has come together, it felt like the right time to transition into this new role. I am so grateful to my team, some of whom I have worked with for the last 20 years and others who have joined more recently.
"I am leaving the studio in great hands. I am so proud of what we have all done together and I look forward to a whole lot more."
Lynton said: "Amy's creativity, drive, and bold choices helped define SPE as a studio where talented individuals could take chances and push boundaries in order to deliver outstanding entertainment.
"The studio's legacy is due in large part to Amy's passion for storytelling and love of this industry. I am delighted that Amy will be continuing her association with SPE through this new venture, which capitalizes on her extraordinary talents.
"In recent months, SPE faced some unprecedented challenges, and I am grateful for Amy's resilience and grace during this period.
"Amy has been a great partner to me in heading the studio and I am looking forward to a continued close working relationship with her in her new role on the lot.
Kazuo Hirai, president and CEO of Sony Corporation, said: "Amy has had a truly extraordinary career. In her years at Sony Pictures, Amy worked with some of the best talent in the film industry to create many of our studio's most beloved and successful films. I want to thank her for her years of dedication and I am pleased that she will continue to work closely with SPE in her new venture."
Since Pascal has led the studio, SPE has amassed more than $46bn in global theatrical box office.
Some of the films released under her stewardship included Casino Royale, Skyfall, the Spider-man series, Men In Black, Captain Phillips, Moneyball, American Hustle, Zero Dark Thirty andGroundhog Day.