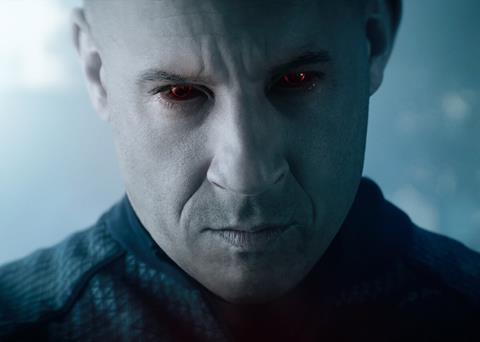 Columbia Pictures has become the latest studio to rush a current release onto digital platforms in light of theatre closures amid the novel coronavirus outbreak and said on Wednesday (18) it will make Bloodshot available for digital purchase on March 24 – 11 days after the film opened in theatres.
The announcement comes as the US theatre lobby group NATO (National Association of Theatre Owners) pledged $1m to support theatre employees and urged Congress to approve an emergency aid package.
Sony's announcement and recent moves by Universal, Warner Bros and STX will only intensify the scrutiny on the exclusive theatrical window, which has been whittled down over the years from 120 days to roughly 75.
Insiders in Hollywood are saying it is only a matter of time before all distributors must pursue a digital contingency plan on upcoming, non-tentpole, titles as a way of recouping some of their capital costs on each film's production and marketing.
The true tentpoles like Universal's F9, Disney/Marvel Studios' Black Widow, and MGM/Eon's No Time To Die are being pushed back to later dates, on the understanding that once theatres reopen these films and others of a similar scale would still be likely to generate large amounts of money in the first theatrical window.
As the industry watches how this plays out and questions surround the health of debt-laden exhibitors like AMC Theatres and Cineworld, the National Association Of Theatre Owners issued a defiant statement on Tuesday saying that theatres would eventually reopen and that cinema-gong was hard-wired into people's nature.
Returning to Bloodshot, Sony chiefs said they will make the action thriller, which stars Vin Diesel as a soldier brought back to life with enhanced powers, available at a suggested price point of $19.99. The plan for international digital sales is being worked out with consideration of the impact of the virus in specific territories. At time of writing Bloodshot had earned $9.7m in North American theatres propr to closures, and $24.3m worldwide.
"Sony Pictures is firmly committed to theatrical exhibition and we support windowing," said Tom Rothman, chairman of Sony Pictures Entertainment's motion picture group. "This is a unique and exceedingly rare circumstance where theatres have been required to close nationwide for the greater good and Bloodshot is abruptly unavailable in any medium. Audiences will now have the chance to own Bloodshot right away and see it at home, where we are all spending more time. We are confident that – like other businesses hit hard by the virus – movie theatres will bounce back strongly, and we will be there to support them."
This week Universal said it was making Trolls World Tour, The Invisible Man, Emma and The Hunt available for digital purchase. Warner Bros with Birds Of Prey and STX with The Gentlemen are pursuing similar courses of action.
Disney has made Star Wars: The Rise Of Skywalker available for digital purchase and placed Frozen II on Disney+ ahead of schedule. However both films have already played out their theatrical lives.