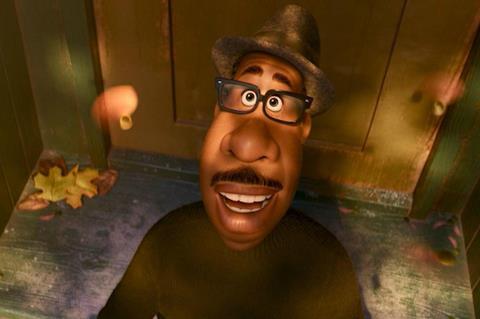 Soul drops 26% in seventh week of play
Russia, South Korea and China continue to be the strongest markets for Disney's Soul, which overall grossed an estimated $6.9m from 11 markets at the weekend, a drop of 26% from the previous frame. Total after seven weeks of play is an estimated $96.2m.
The Pixar animation extended its chart-topping run in Russia to three weeks, declining 21% with estimated weekend takings of $2.7m, and $11.6m to date. That's the third best total for a Pixar film in Russia, after Inside Out and Incredibles 2.
South Korea was a similar story, with Soul retaining the top spot in its third week of play, dropping 25% with an estimated $2.0m, and $10.1m so far.
China, where the film has been playing for seven weeks, delivered estimated takings of $1.8m, bringing the total to $55.8m. Soul overtook Incredibles 2 ($53.7m) to become Pixar's second-biggest hit ever in China, behind only Coco ($186m).
Soul's pattern of success at the weekend is also reflected in cumulative totals, with China, Russia and South Korea leading the pack ahead of Taiwan ($5.9m) and Saudi Arabia ($5.7m). Other territories are trailing those numbers, with Ukraine ($1.6m), Singapore ($1.4m) and UAE ($1.2m) next in Pixar's league table.
Soul is currently playing in markets where Disney+ does not operate. No new openings are planned for the coming weekend.
The Little Things adds $3.5m for $13m total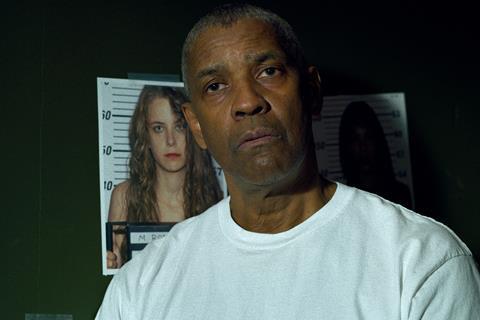 John Lee Hancock's The Little Things, starring Denzel Washington, Rami Malek and Jared Leto, saw global takings slide by more than 50% in its second weekend of play. In North America, the session delivered an estimated $2.1m (down from $4.7m for the opening weekend), and internationally the estimated takings are $1.4m (down from $2.8m). Total after two weekends is $13m.
Russia is the only major international market so far released for the cop thriller, which yielded supporting actor Golden Globe and Screen Actors Guild Awards nominations for Leto last week. Takings dipped 29% in Russia to an estimated $755,000, taking the total there to $2.2m.
The Little Things opened number one in Ukraine, with takings of $178,000. Saudi Arabia, which had delivered the film's second-best international market (after Russia) on opening weekend, saw cinemas ordered closed due to a spike in Covid-19 cases.
The next major market to release will be Australia, on February 18. Although Australia has been operating with capacity restrictions, the country has been one of the relative bright spots for cinemas in recent weeks and months.
Also for Warner Bros, Wonder Woman 1984 grossed an estimated $1.56m at the weekend (a 38% decline), which breaks down as $905,000 in North America and $653,000 for international. Global total is now $154.5m. Top international markets to date are China, Australia and Taiwan.
Local titles dominate Australia box office
Eric Bana crime drama The Dry held onto the top spot of the Australian box office in its sixth week of release, while fellow local title Penguin Bloom stayed in second place. Liam Neeson thriller The Marksman moved up to third place, and local title High Ground moved up to fourth, with horror reboot Wrong Turn rounding out the top five. This means that three of the top four in Australia are all local films.
The Dry – an adaptation of Jane Harper's 2016 debut novel starring Bana as a federal police agent returning to a struggling farming community for the funeral of his childhood best friend – grossed Aus$1.19m ($914,000), down 18% from the previous weekend, and taking the total to Aus$16.3m ($12.5m).
Penguin Bloom – based on the heartwarming memoir by Cameron Bloom and Bradley Trevor Greive about a family who tend to an injured magpie chick – grossed Aus$1.27m ($975,000), a decline of 43% from the previous weekend, taking the total after three weeks to Aus$5.17m ($3.97m). Andrew Lincoln, Naomi Watts and Jacki Weaver lead the cast.
High Ground – a Berlinale 2020 premiere starring Simon Baker as a First World War veteran who teams up with an Aboriginal man (Jacob Junior Nayinggul) to hunt down a dangerous outlaw – dropped 34% with second-weekend takings of Aus$404,000 ($310,000), and an 11-day total of Aus$1.39m ($1.07m).
The Dry and Penguin Bloom are both distributed by Roadshow; The Marksman and High Ground are both distributed by Madman; and Kismet/Rialto has Wrong Turn.