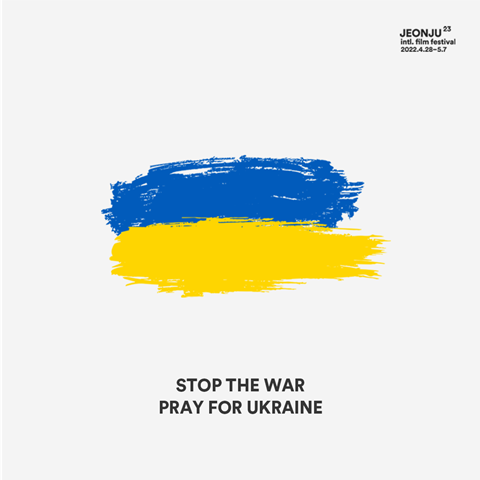 South Korean film festivals in Jeonju, Busan and Bucheon have added their voices to the global film industry's support for Ukraine, following the country's invasion by Russia.
Jeonju International Film Festival, headed by festival director Lee Joondong, issued a statement today (March 3) that said: "As a member of a community that has experienced the pain of infringement of sovereignty and furthermore of the international community, Jeonju International Film Festival strongly condemns Russia's invasion. This kind of violence cannot be justified in any circumstance.
"Jeonju International Film Festival strongly supports Ukraine in its determination to preserve its sovereignty and territory and its strong desire for democracy, and also supports the courage of local filmmakers, artists and citizens in Russia who have begun to speak out against the state's unilateral decision. We hope citizens in Ukraine stay safe."
The festival, which is set to host its 23rd edition from April 28-May 7, shared the statement widely via social media and its website.
Busan International Film Festival (BIFF) and Bucheon International Fantastic Film Festival (BIFAN) have also posted today with anti-war messages of support for the people of Ukraine and their freedom on their social media accounts.
A statement from BIFF, whose next edition takes place in October, said: "Since the unprovoked invasion from February 24, we witnessed the tragic procession of Ukrainian refugees and the countless casualties caused. Every member of the festival office expresses deep regret in response to this unbearable invasion of Ukraine, as the spirit of freedom and peace is the most basic and valuable ideology that all citizens of the world must defend."
The post, shared on Instagram, also voiced "condemnation" of the Russian government and "full support to the Ukrainian people and their filmmakers".
Asked today by Screen, the South Korean film festivals have not committed to banning Russian delegations or films for their 2022 editions to date.