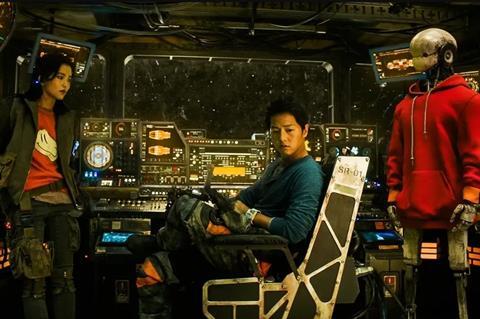 South Korean multiplex operator Lotte Cinema is set to close 20% of its sites over the next two years and is joining fellow chains CJ CGV and Megabox by raising ticket prices in an effort to counter losses from the COVID-19 pandemic.
"Lotte Cinema's sales have gone down more than 70% compared to the same time last year due to the protracted effects of COVID-19," said the company in a statement today, adding that rent and maintenance costs were increasing so that the company was operating at a loss of "approximately KW15bn ($13.42m) a month".
The exhibitor says it will discuss changing its rental deals from minimum guarantee to profit-sharing models, and will close more than 20 of its directly-operated sites over the next two years.
Lotte currently has 99 sites with 711 screens which it operates directly, and 34 sites with 216 screens that it works with affiliates on.
Internationally, Lotte will withdraw from its Hong Kong, China and Indonesia sites and reduce its sites in Vietnam by 20%. The company currently has 12 sites with 80 screens in Hong Kong and China, as well as one site with five screens in Indonesia. In Vietnam, it has 47 sites with 224 screens.
Since March, the company has seen executives return their wages, and has introduced voluntary unpaid leave and retirement schemes as well as shut down its VoD services, but says "the belt-tightening measures have reached their limit".
The multiplex chain will raise its ticket prices in Korea from December 2. Adult tickets will go from the current KW7,000-KW12,000 ($6.26-$10.74) tiered rates to KW8,000-KW13,000 ($7.16-$11.63). Discounts for first row seats as well as Culture Day (the last Wednesday of each month), seniors and persons with disabilities will still apply.
In October, CJ CGV announced it would raise ticket prices and close 30% of its screens over the next three years. Megabox announced a similar ticket price hike earlier this month.
Space Sweepers
In tandem with plummeting admissions, several blockbuster releases have been pushed back indefinitely or have gone straight to OTT. Only today, Netflix in Korea announced it has picked up one of the year's most anticipated films, Space Sweepers, a sci-fi film which had its theatrical release pushed back more than once due to the pandemic.
Directed by Jo Sung-hee, whose credits include A Werewolf Boy, the film boasts top K-drama stars Song Joong-ki and Kim Tae-ri, who also starred in Park Chan-wook's The Handmaiden.
The film's main backer and distributor is Merry Christmas. The company's CEO You Jeong-hun noted Space Sweepers was originally conceived as an IP that could extend into a franchise and spin-offs including web comics and games and therefore "we decided we could no longer postpone the release and chose Netflix as the most successful way to show Space Sweepers to audiences worldwide as well as locally."
Netflix says it will exclusively release the film simultaneously in 190 countries. The exact date has yet to be announced and the possibility for any accompanying theatrical release is understood to be under discussion.