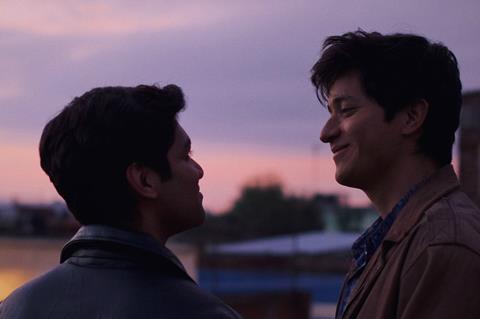 Sony Pictures Classics (SPC) made its second on-site buy of Sundance, partnering with Stage 6 on documentarian Heidi Ewing's narrative feature solo directorial debut I Carry You With Me.
The Next selection premiered on Sunday and charts a gay romance spanning decades that starts in Mexico between an aspiring chef and a teacher. Societal pressure forces the relationship into an unexpected place when one of them is forced to move to the US.
Ewing and Alan Page Arriaga co-wrote the US-Mexico drama, which stars Armando Espitia, Christian Vázquez, and Michelle Rodríguez and was produced by Mynette Louie and Ewing. SPC plans a theatrical release later this year.
Norman Lear and Brent Miller served as executive producers on I Carry You With Me (Te Llevo Conmigo) with Teddy Schwarzman, Ben Stillman, and Michael Heimler of Black Bear Pictures. Production companies credited are Loki Films, The Population, and Zafiro Cinema.
Alexander Almogabar Zahn oversaw the film for Sony Pictures Worldwide Acquisitions production label Stage 6 Films. CAA Media Finance packaged and represented the film at Sundance.
Earlier this week SPC acquired from Submarine the World Cinema Documentary entry The Truffle Hunters directed by Michael Dweck and Gregory Kershaw.