The beleaguered community of film critics has received strong support from an influential source in the shape of Sony Pictures Classics Co-President and Co-Founder Michael Barker.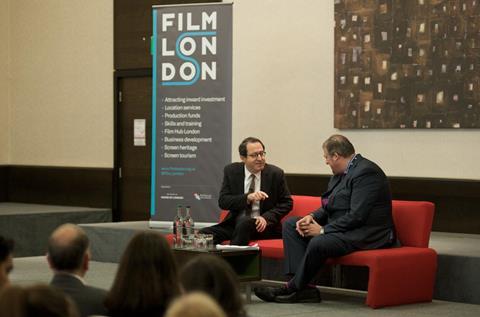 Giving the Film London Production Finance Market (PFM) keynote address, Barker pointed to the influence that these critics have on the audience that watches independent film.
This may be an era in which critics at newspapers and magazines in the US and UK are being culled in big numbers but Barker believes they still have a place.
"It [film criticism] has great importance," Barker declared. "It is devastating to independent film with all these great critics losing their jobs and not having a forum."
Barker expressed his hope that social media may give back some of the critics their power. "[But] one of the problems with social media is that everyone has an opinion. You don't know who is a real valued critic and who is a person on the street."
Mike Leigh's Turner project
In a wide-ranging Q&A with Film London's Adrian Wootton, Barker also spoke of SPC's enduring relationships with top talent like Woody Allen, Pedro Almodovar and Mike Leigh.
Barker revealed that Mike Leigh first approached SPC about his forthcoming JMW Turner biopic a decade ago.
"It was his passion project," recalled Barker. "It was always difficult because the budget was higher than his other films for obvious reasons. It was an epic.
"We just decided we wanted to come on board. When it looked like [producer] Gail Egan and Mike and Georgina [Lowe] were going to be able to put the money together if we put in a certain amount, it just made sense for us."
Leigh, Barker revealed, has had full co-operation from the owners of Turner's most important paintings. "For us, it will be a major work and we are thrilled to be part of it."
The film is being readied for a likely Cannes 2014 premiere and late 2014 US release.
Blue Jasmine
Together with partner Tom Bernard, Barker has been handling independent movies for over 30 years.
The company is currently riding high on the success of Woody Allen's Blue Jasmine, which is on target to make $35m at the US box office.
Barker said that the decision to open Blue Jasmine in the summer, "a counter programming move, not an obvious time to open a film that is a serious drama," had paid rich dividends.
"That turned out to be such a wise choice. People were 'up-to-here' in blockbusters."
Another key part of the Blue Jasmine release strategy was to use social media to target the fan base of the film's costars, Alec Baldwin, Andrew Dice Clay and Louis C.K.
"These are not necessarily people that flock to Woody Allen movies," Barker observed. "They're not necessarily the fan base to see a heavy drama."
Final cut philosophy
Barker made it clear that the SPC philosophy remains unchanged. The company always gives its filmmakers final cut. That strategy, Barker suggested, encouraged collaboration rather than confrontation.
The marketing is intended to help the films "last forever" and to develop into "evergreens…that will keep giving revenues year after year." In other words, the campaign isn't simply aimed at the opening weekend or the first release on DVD but in giving the films a "long life."
"Tom and I are strong believers in the auteur theory. You identify these filmmakers and you grow with them," the SPC boss said of his long collaboration with filmmakers ranging from the late François Truffaut to David Cronenberg.
"For us, when we started at Sony Pictures, we made it very clear that our intention was to distribute and produce movies that a big studio would not do," Barker declared.
"Sony has always embraced that. I don't think there has ever been an instance where we stepped on each others' toes."
Revenue streams
In a generally upbeat assessment of the independent film market, Barker stated that "the one thing I've learned in the last five years is that you have to pay attention to every revenue stream. When I started in the business, we only paid attention to theatrical and occasionally there would be a television sale."
Now, Barker claimed, "survival has to do with paying attention to every revenue stream. A film may do great in Germany but not well in the US. You may have huge airline sales…there is new attention to pay per view, a new attention to VOD."
Theatrical commitment
Speaking to ScreenDaily after the address, Barker re-affirmed SPC's commitment to theatrical releasing. "The theatrical is so vital for what we do. There certainly are films where the multi-platform makes sense but for the films we release, it doesn't make sense.
"Theatrical is so important to spread the word of mouth. Word of mouth is very important on these films. If you truncate the speed of the delivery to the audience on all the platforms, you may miss out on people being aware of the film."
Jasmine awards campaign
Barker also said that Blue Jasmine would receive a vigorous awards campaign in multiple catgeories.
"It's so well reviewed by all the critics and it's obviously embraced by the public. The fact that a heavy drama like this could become a mainstream film is pretty revelatory and encouraging. We certainly think it's one of the best movies of the year," Barker said.
Whether SPC will be involved in Allen's next film Magic In The Moonlight is yet to be revealed. "We will see," Barker added.
"[Producer] Letty Aronson and Woody tend to wait in making that decision until well along in the editing process."