James Bond thriller dwarfs previous record-holder, Fifty Shades of Grey.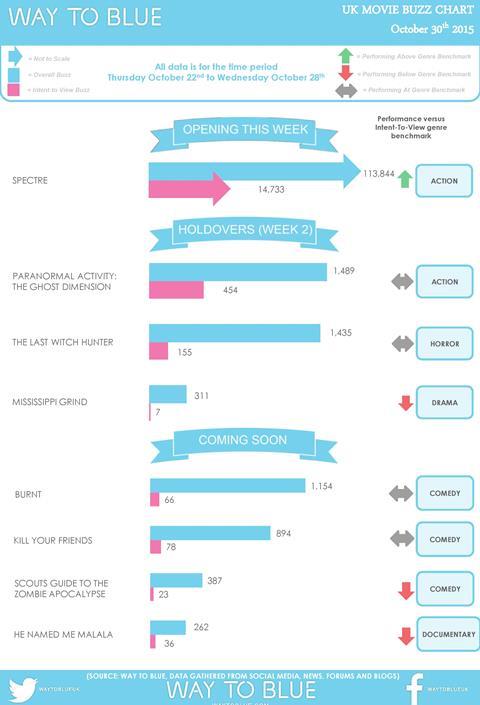 Spectre has scored a record figure on the weekly buzz chart, generating nearly 114,000 comments across social media, news, forums and blogs, according to analysis firm Way To Blue.
The film, which has topped $24m (£16m) since opening on Monday in the UK, stars Daniel Craig in the latest James Bond instalment, directed by Sam Mendes.
Around 13% of those comments expressed 'intent to view', meaning they would look to see the film at the cinema.
It smashed the previous opening week buzz record, dwarfing the 76,704 mentions that Fifty Shades of Grey generated in its opening week in February.
Spectre also left all others way behind.
Spooky sequel Paranormal Activity: The Ghost Dimension scared up nearly 1,500 comments (30.5% ItV) while Vin Diesel's The Last Witch Hunter managed to top 1,400 comments (10.8%).
Bradley Cooper's culinary drama, Burnt, topped the films yet to be released in the UK, with just over 1,154 comments (5.7%).