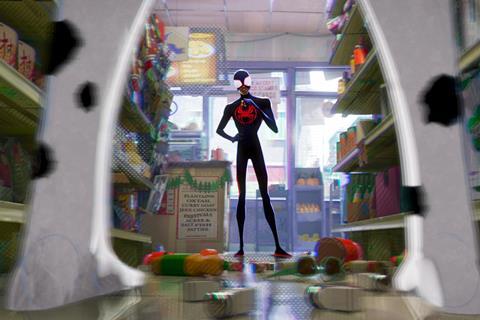 UPDATED: In a new record for a Sony animated film that will fuel hopes for a big summer Spider-Man: Across The Spider-Verse arrived in North America on a confirmed $120.7m for the top debut of the season so far, and earned $208.6m worldwide.
Opening in 4,313 locations in North America. Columbia Pictures and Sony Pictures Animation's sequel delivered the second biggest debut of 2023 so far behind The Super Mario Bros. Movie, the best debut for Sony Pictures Animation, the third biggest opening weekend for any Spider-Man film, and opened on more than three times the unadjusted $35.4m debut of its 2018 predecessor.
Sony previewed footage from Spider-Man: Across The Spider-Verse at CinemaCon in April and it was well received by exhbitors. Audiences showed their appreciation too. The tentpole earned $51.8m on Friday, $37.5m on Saturday, and $31.3m on Sunday.
Exit polls revealed that the audience comprised 37% Caucasian, 28% Hispanic, 20% Black, and 15% Asian and "other".
Spider-Man: Across The Spider-Verse earned $88.1m internationally, which Sony sources said exceeded the 2018 film's debut in like markets by a factor of 2.8. A full global report will appear here on Monday.
Joaquim Dos Santos, Kemp Powers and Justin K. Thompson co-directed the feature written by Phil Lord and Christopher Miller and David Callaham. Shameik Moore, Hailee Steinfeld, Brian Tyree Henry, Luna Lauren Velez and Oscar Isaac are among the cast.
After two weekends Disney's The Little Mermaid in second place stands at $186.2m in North America; Disney/Marvel's Guardians Of The Galaxy Vol 3. in fourth has amassed $322.7m after five; and Universal's Fast X in fifth has reached $128.5m after three. Disney/20th Century Studios' The Boogeyman opened in third place behind expectations on $12m from 3,205 theatres.