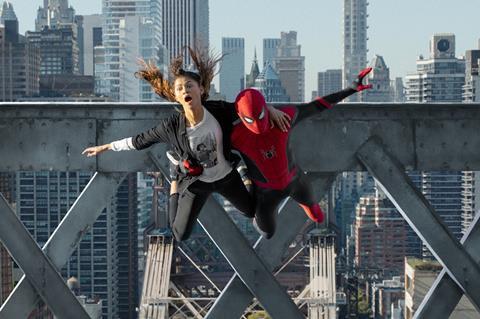 Worldwide box office December 24-26, 2021

| Rank | Film (distributor) | 3-day (World) | Cume (world) | 3-day (Int'l) | Cume (Int') | Territories |
| --- | --- | --- | --- | --- | --- | --- |
| 1. | Spider-Man: No Way Home (Sony) | $202.9m | $1.054bn | $121.4m | $587.1m | 62 |
| 2. | The Matrix Resurrections (Warner Bros) | $47m | $69.8m | $35m | $47.3m | 76 |
| 3. | Sing 2 (Universal) | $42.9m | $65.8m | $19.2m | $24.8m | 39 |
| 4. | Fireflies In The Sun (Wanda Pictures) | $35.8m | $113.5m | $35.8m | $113.5m | 1 |
| 5. | The King's Man (20th Century Studios/Disney) | $13.3m | $16.9m | $6.9m | $6.9m | 8 |
Credit: Comscore, all figures estimates
'Spider-Man: No Way Home' is first $1bn hit of pandemic

UPDATED: Columbia Pictures/Marvel Studios' Spider-Man: No Way Home has crossed the $1bn mark at the global box office without China to become the first release of the pandemic era to reach the milestone, a spectacular feat in light of the Omicron spread and tightening of restrictions across Europe and parts of the world.
The profitable tentpole starring Tom Holland and Zendaya and directed by Jon Watts stood at $1.05bn as of Monday (December 27) after 13 days in release and tied with 2015's Star Wars: The Force Awakens as the joint third fastest release to cross the threshold on 12 days. It ranks only behind Avengers: Endgame (five days in 2019) and Avengers: Infinity War (11 days in 2018) in the all-time speed pantheon.
Spidey's global running total comprises $587.1m from international markets after a $121.4m weekend on more than 32,600 screens in 61 markets and $470.4m from North America following an $81.5m haul in 4,336 locations that easily confirms it as Sony's biggest ever release at the US box office ahead of 2019 franchise predecessor Far From Home.
No Way Home opened in Thailand on $3.5m and added $7.5m in the UK for a $68.9m running total which has outstripped the $49.6m final tally of Far From Home in 2019. Box office dropped 57% in the entire international session, a strong performance given that superhero releases, like many youth-skewing tentpoles, tend to front-load their results in the first weekend. The film is tracking ahead of current franchise champion Far From Home by 51% and is ahead of 2017 release Spider-Man: Homecoming by 99% for the same bucket of markets at current exchange rates.
Spidey added $6.8m in Mexico for $52.8m, a remarkable $12.5m in South Korea for $41.1m, $9.6m in France for $35.8m, $5m in Brazil for $31.7m, and $5.1m in Australia where the film has reached $31.4m.
In other results from around the world Spidey generated $4.8m in India for $29.7m, $6.3m in Russia ($28.5m), $5.1m in Italy ($21.2m), $4.6m in Germany ($20m), $2.3m in Spain ($16.5m), $3.9m in Hong Kong ($13m), $2.8m in Taiwan ($12.5m), $1.2m in Argentina ($10.8m), and $2.9m in Malaysia ($10m).
Coming up in 2022 are Japan on January 7, Philippines on January 8, Slovakia on January 13 and Norway on January 14. China remains undated and the fact that No Way Home has crossed $1bn so quickly without input from the world's current number one market makes the film's performance all the more remarkable.
In North America the tentpole earned $19.7m on Friday, $31.6m on Saturday and $33.3m on Sunday from 4,336 locations. This was the third highest December 25 gross of all-time, while the 10-day running total ranks as the third highest industry result of all time, the second highest December gross, and the third highest by any superhero film.
The top two December 25 grosses are Star Wars: The Force Awakens on $49.3m in 2015 and Star Wars: The Rise Of Skywalker on $32.2m in 2019. Avengers: Endgame and Star Wars: The Force Awakens hold the top two 10-day spots on $621.3m in 2019 and $540.1m in 2015, respectively.
'The Matrix Resurrections' crosses $65m after international opening salvo
UPDATED: Nearly 20 years after the Matrix trilogy concluded, Lana Wachowski's The Matrix Resurrections arrived via Warner Bros Pictures International on 17,749 screens in 75 markets, grossing a confirmed $32.2m for a $44.2m international running total and $65.4m worldwide. The tentpole starring returning heroes Keanu Reeves, Carrie-Anne Moss and Jada Pinket Smith alongside newcomers Yahya Abdul Mateen II and Neil Patrick Harris opened in second place behind No Way Home in the UK on $3.6m, a little behind Terminator: Genisys in 2015.
In other highlights France delivered $3m for third place, Mexico $2.2m for third, and in a pair of number two debuts, Germany on $1.7m and Hong Kong on $1.4m. Brazil, South Korea and Spain each generated $1.4m debuts and top four finishes. Japan produced $1.4m in the second session and was impacted heavily by Omicron and severe snow in the south central region. Nonetheless Japan is currently the lead market on $7.1m.
Resurrections opened in Australia on December 26 and arrived in second place on $961,000. It is scheduled to debut in Italy on January 1 and the final four markets in January with China set for January 14.
The global haul includes an estimated $12m North American debut in 3,552 locations. Reeves et al are projected to land on $21.2m over five days. The North American result fell below those of the initial trilogy (The Matrix earned $27.8m in 1999, The Matrix Reloaded $91.8m in 2003 and The Matrix Revolutions $48.5m in 2003 – all figures unadjusted for inflation). Performance would have been impacted not only by the spread of Omicron but the film's availability on HBO Max, where it launched day-and-date with cinemas and will remain for a month before moving to PVoD.
Latest figures put Denis Villeneuve's sci-fi Dune on $287.6m international and $394.7m worldwide.
'Sing 2' in good voice as France, Mexico, North America power second highest global animation debut of 2021
Universal/Illumination's Sing 2 opened on $42.9m over the weekend rising to $65.8m including holdovers to rank as the second highest global animation launch of 2021 behind Disney's Encanto. International accounted for $19.2m.
Active in 38 territories including 22 debuts, Sing 2 set a pandemic record for an animation in France where it opened on $6m, including $2.1m from the market's biggest ever paid preview programme for an animation. Wednesday's opening day drew 176,000 admissions for the biggest animated opening day of the pandemic and the best December animated opening day.
Mexico delivered $3.6m including $1.1m from previews in the biggest pandemic animation debut and the third biggest December opening for an animation. Thursday's opening proper was the biggest opening day for an animation during the pandemic. Elsewhere Sing 2 earned $2.4m in Russia, $1.6m in Spain including $700,000 in previews and $1.3m in Australia including $600,000 in previews.
The film grossed $23.8m over three days in North America, rising to $41m over five including $1.6m from screenings over Thanksgiving weekend.
China's 'Fireflies In The Sun' crosses $100m
Wanda Pictures' drama Fireflies In The Sun has crossed $100m in its second weekend following a $35.9m weekend haul that pushed the running total to $113.4m, according to Artisan Gateway, ranking fourth at the weekend global box office. Dai Mo of the Detective Chinatown TV series directed the crime thriller, which is described as a sequel to hit 2019 crime drama Sheep Without A Shepherd. Ranking second some way behind was Maxtime Culture's new opener B For Busy on $10.3m.
'Encanto' approaching $200m worldwide
After just five weekends Encanto has reached $193m at the worldwide box office comprising $105m from international and $88m in North America. The tale of destiny and magic has amassed $9.7m in Colombia, where the story takes place, and ranks as the sixth highest grossing film of all time, the second highest animation of all time, and the highest grossing title during the pandemic. It is also the highest grossing animation of the pandemic era across Latin America and remains number thee in a handful of markets, including Brazil.
France is the lead market on $14.7m, followed by Colombia, then the UK on $7.2m, Spain on $6.6m, and Japan on $5.8m.
20th Century Studios/Disney's The King's Man grossed $16.9m worldwide with most of the action coming from a $10m number four launch in North America. The latest entry in Matthew Vaughn's action franchise opened in a few international markets and arrived in second place in South Korea and Japan where it stands at $3.5m and $2.1m, respectively. It opened in the UK on December 26 and was reported to have reached at least $500,000 as of that day. Updated numbers were unavailable at time of writing. A $600,000 number two debut in Indonesia placed ahead of The Matrix Resurrections.
Coming up are Germany and Italy on January 5 and Australia and Brazil on January 6, with Russia on January 13. China remains undated.
West Side Story is ramping up internationally after grossing $23.9m in North America. International markets account for an early $12.7m for a $36.6m global tally. The UK is the top market on $5.1m, followed by France on $2.8m.
Memoria begins unique one-screen-only US theatrical run
Apichatpong Weerasethakul's Memoria grossed an estimated $6,797 from its first week on a single screen at IFC Center in New York. Distributor Neon has set a unique model whereby the film – a haunting meditation on trauma and memory starring Tilda Swinton – will play only on one screen at a time and move across the United States. The next venue will receive the film in 2022.