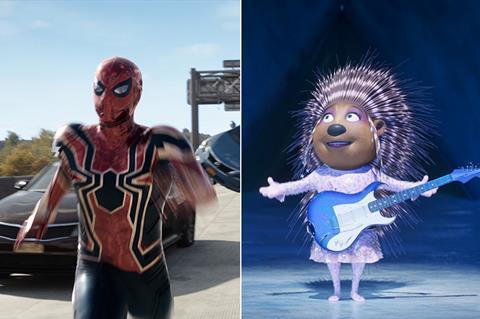 Worldwide box office January 21-23
| Rank | Film (distributor) | 3-day (World) | Cume (World) | 3-day (Int'l) | Cume (Int'l) | Territories |
| --- | --- | --- | --- | --- | --- | --- |
| 1. | Spider-Man: No Way Home (Sony) | $41.8m | $1.69bn | $27.7m | $970.1m | 64 |
| 2. | Scream (Paramount) | $22.6m | $84.9m | $10.2m | $33.6m | 55 |
| 3. | Sing 2 (Universal) | $18.5m | $241.2m | $12.8m | $112.7m | 60 |
| 4. | The King's Man (Disney) | $7.9m | $105.3m | $6.2m | $73.8m | 46 |
| 5. | Embrace Again (various) | $5.2m | $137.1m | $5.2m | $137.1m | 4 |
| 6. | Nightmare Alley (Disney) | $4.9m | $14.4m | $4.7m | $4.7m | 18 |
| 7. | Fireflies In The Sun (various) | $4.3m | $166.3m | $4.3m | $166.3m | 1 |
| 8. | The Matrix Resurrections (Warner Bros) | $3.9m | $148.3m | $3.5m | $111.7m | 74 |
| 9. | Redeeming Love (Universal) | $3.7m | $3.7m | $0.037m | $0.037m | 2 |
| 10. | G Storm (various) | $3.4m | $92.6m | $3.4m | $92.6m | 5 |
Credit: Comscore, all figures estimates, click top right to expand
'Spider-Man: No Way Home' tops global chart for sixth straight week
Sony's Spider-Man: No Way Home enjoyed an easy victory at the global box office, with nearly double the takings of the weekend's nearest challenger, Scream. Estimated weekend takings of $41.8m take No Way Home's global total to $1.69bn, making the film the sixth biggest of all time, behind only Avatar, two Avengers films (Endgame and Infinity War), Titanic and one Star Wars title (The Force Awakens).
The last week saw No Way Home overtake both Disney's The Lion King remake ($1.66bn) and Universal's Jurassic World ($1.67bn) to rise up the rankings.
No Way Home has now topped the global box office for six consecutive weekends, resisting the challenge of competitors such as Sing 2, The Matrix Resurrections and Scream.
For international territories, holdover markets dropped a relatively slim 31% with No Way Home, while a new opening in Norway ($2.6m estimate) also gave the film a boost. Slovakia also bowed, with an estimated $600,000.
In cumulative totals, UK/Ireland leads the international pack with $116.9m, followed by Mexico ($73.4m), South Korea ($60.6m), France ($59.9m), Australia ($53.2m) and Brazil ($52.4m). No Way Home has yet to be granted a release slot for China.
'Scream' holds in second place despite steep North America drop
Paramount and Spyglass Media's Scream yielded the top of the North America box office to returning chart champ Spider-Man: No Way Home, and witnessed a 59% drop from its previous (opening) session.
However, Scream proved more robust in international territories, dropping a gentler 43% from the opening weekend.
Estimated weekend takings were $12.4m for North America, $10.2m for international, and $22.6m combined. Cumulative takings are $51.3m in North America, $33.6m for international, and $84.9m combined.
Scream, which is the fifth film in the masked-killer horror franchise, is already closing in on Scream 4's global total of $97.2m – earned in 2011.
UK/Ireland led at the weekend among international markets with an estimated $1.7m, and the territory also leads for cumulative totals, with $6.5m.
France came second, both for weekend takings (an estimated $930,000) and cumulative total ($2.9m).
Scream opened at the weekend in Portugal, Malaysia and Thailand, landing in second place in all three, and grossing a collective $380,000 from the trio of new markets.
Yet to open for Scream are the Netherlands and the Philippines, which both welcome the film in February.
'Sing 2' is biggest animated film of pandemic
Universal's Sing 2 has overtaken Disney's Encanto to become the biggest US studio animated film of the pandemic era at the global box office. Sing 2 has reached $241.2m worldwide, which compares with $223.7m for Encanto. DreamWorks Animation's The Croods: A New Age stands at $215.9m.
The weekend saw Sing 2 gross an estimated $12.8m in international markets – dropping just 26% in holdover territories – and $5.7m in North America. Cumulative takings are $112.8m for international and $128.4m in North America.
Sing 2 received an international boost thanks to new openings in Germany (an estimated $3.0m including previews) and Poland ($2.4m including previews). The film topped the local box office chart in both cases, and in both cases was the biggest animated opening of the pandemic.
Next to open Sing 2 is UK/Ireland this Friday (January 28).
Also for Universal, Kenneth Branagh's awards contender Belfast landed in its home market of UK/Ireland, beginning with an excellent estimated $3.1m from 705 cinemas – a site average of $4,360. Belfast narrowly missed landing in Comscore's global top 10 weekend chart, which is propped up by Hong King action thriller G Storm (with takings of $3.4m).
'The Matrix Resurrections' falls out of China top 5
A week ago, Warner Bros' The Matrix Resurrections stood at the top of the China box office, having debuted with $7.5m. However, a slide in its second weekend to just $1.85m (down 75%) sees it disappear from the China top 5 box office chart, provided by Artisan Gateway.
An exceptionally static chart sees Covid-themed drama Embrace Again return to the top spot in its fourth weekend of play, with $5.2m. Thriller Fireflies In The Sun, in second place with $4.3m, has been on release even longer – it's now in its sixth week of play. Respective totals are $137.1m and $166.3m.
Overall, The Matrix Resurrections grossed an estimated $3.5m at the weekend in international markets, taking the international total to $111.7m. Globally, it stands at $148.3m. Top international markets are Japan ($12.0m to date), China ($11.4m) and UK/Ireland ($9.7m).
'The King's Man' breaks $100m barrier
Disney's The King's Man broke through the $100m barrier at the weekend, with global box office now at $105.3m: $31.5m in North America, and $73.8m for international.
Weekend takings for the Matthew Vaughn spy action prequel were an estimated $6.2m for international (down 42% in holdover markets) and $1.8m in North America (down just 20%).
In cumulative totals, UK/Ireland leads with $9.7m, ahead of South Korea (a strong $8.5m), Japan ($7.6m), France ($6.0m) and Taiwan ($5.0m). The King's Man has topped the box office in Taiwan for four weeks in a row.
This coming weekend, the film lands in the Netherlands. A China release is to be determined.
Vaughn's original Kingsman: The Secret Service grossed $414m worldwide in 2014, and sequel Kingsman: The Golden Circle reached a very similar $411m in 2017.