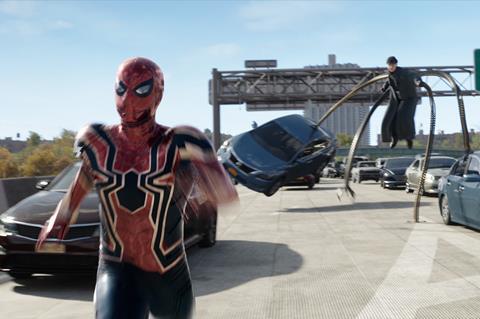 Sony's Spider-Man: No Way Home has grossed a huge £7.6m on its first day in the UK and Ireland for the biggest-ever Wednesday opening in the territory, bringing welcome news to the cinema sector amid the latest wave of Covid-19 infections.
The film played in 648 locations, recording an enormous location average of £11,728 for its Wednesday, December 15 opening. £7.2m of the amount came from the UK, with £400,000 from Ireland.
For comparison, Universal's No Time To Die took £4.8m on its opening day in the territory, so Spider-Man: No Way Home is 58% ahead.
This raises the prospects of a profitable opening weekend for Spider-Man: No Way Home, with the slight caveat that box office for Marvel Studios titles tends to be front-loaded.
The latest Bond film had a three-day opening weekend of £21m as part of a £25.9m total opening, which Spider-Man: No Way Home now has a chance to surpass.
No Time To Die is at £96.3m as of last weekend – the third-highest-grossing title of all time in the UK and Ireland.
Sony's highest-grossing titles in the territory are the previous two James Bond films, 2012's Skyfall with £103.2m and 2015's Spectre with £95.2m.
Spider-Man: No Way Home sees 2012 Screen Star of Tomorrow Tom Holland don the iconic red and blue suit for the third time in a standalone film. His Spider-Man asks Doctor Strange – played by 2004 Screen Star Benedict Cumberbatch – for help, only for Strange's spell to go wrong and cause dangerous former foes to reappear.
Images of crowds queuing outside cinemas for the film were posted on social media, including by BFI CEO Ben Roberts from the Waterloo Imax venue.