Sony Pictures have struck a deal with Walt Disney-owned Marvel Studios that will see new Spider-Man first appear in an upcoming Marvel film.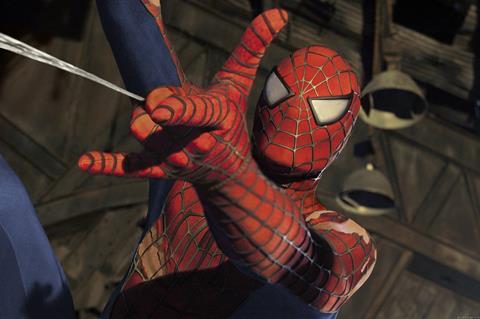 Sony Pictures Entertainment and Marvel Studios announced today that Sony is bringing Marvel into the web-slinging world of Spider-Man.
It follows Sony's Amazing Spider-Man 2, which under-performed at the box office last year. Despite taking $709m at the global box office, it was the lowest-grossing of Sony's five Spider-Man films to date.
Under the deal, the new Spider-Man will first appear in a Marvel film from Marvel's Cinematic Universe (MCU), meaning the character could now appear in superhero films such as Iron Man and Thor.
There is already speculation Spider-Man's first outing will be in 2016's Captain America: Civil War, as the character appears in the comic book version of the story.
Sony Pictures will thereafter release the next instalment in the $4bn Spider-Man franchise on July 28, 2017.
The film will be co-produced by Marvel's Kevin Feige and and Amy Pascal, who oversaw the franchise launch for the studio 13 years ago.
It was announced last week that Pascal is to leave her co-chairman position at Sony to launch a new production venture at the studio. The move came after her emails were made public as part of a hacking scandal at the studio.
Those emails also showed that Marvel was pushing for Spider-Man to appear in the next Captain America movie while Sony Pictures president Doug Belgrad wanted a Marvel-produced Spider-Man movie in which Sony retained "creative control, marketing and distribution".
Those talks reportedly stalled in December but the new announcement falls in line with those criteria.
Feige and Pascal will collaborate on a new creative direction for the superhero. Sony Pictures will continue to finance, distribute, own and have final creative control of the Spider-Man films.
Marvel boss Feige has overseen 10 consecutive blockbusters including Avengers Assemble and Guardians of the Galaxy.
Cross-over opportunities
Marvel and Sony Pictures are now exploring opportunities to integrate characters from the MCU into future Spider-Man films.
The new relationship follows a decade of speculation among fans about whether Spider-Man – who has always been an integral part of the larger Marvel Universe in the comic books – could become part of the Marvel Universe on the big screen.
It has also led to Marvel moving the release dates of its upcoming movies.
The next Thor movie would have gone head-to-head with a new Spider-Man movie in the summer of 2017 but will now move to November of that year, moving a film based on the Black Panther character into 2018.
The two-part Avengers: Infinity War movies, however, will hold their release slots of May 2018 and May 2019.
Bob Iger, Chairman and CEO, The Walt Disney Company said: "Spider-Man is one of Marvel's great characters, beloved around the world. We're thrilled to work with Sony Pictures to bring the iconic web-slinger into the Marvel Cinematic Universe, which opens up fantastic new opportunities for storytelling and franchise building."
"We always want to collaborate with the best and most successful filmmakers to grow our franchises and develop our characters. Marvel, Kevin Feige and Amy, who helped orchestrate this deal, are the perfect team to help produce the next chapter of Spider-Man," said Michael Lynton, Chairman and CEO of Sony Pictures Entertainment. "This is the right decision for the franchise, for our business, for Marvel, and for the fans."
"Sony Pictures and Marvel Studios share a love for the characters in the Spider-Man universe and have a long, successful history of working together. This new level of collaboration is the perfect way to take Peter Parker's story into the future," added Doug Belgrad, president, Sony Pictures Entertainment Motion Picture Group.
"I am thrilled to team with my friends at Sony Pictures along with Amy Pascal to produce the next Spider-Man movie," said Marvel Studios President Kevin Feige.
"Amy has been deeply involved in the realization on film of one of the world's most beloved characters. Marvel's involvement will hopefully deliver the creative continuity and authenticity that fans demand from the MCU. I am equally excited for the opportunity to have Spider-Man appear in the MCU, something which both we at Marvel, and fans alike, have been looking forward to for years."