As has happened so often in recent years, a Disney-owned property delivered a Comic-Con show-stopper as JJ Abrams rounded off Friday's Star Wars love-fest by inviting the entire 6,000-plus capacity of Hall H to a live concert.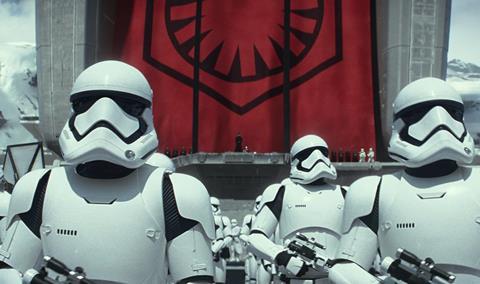 The ensuing waterside performance by the San Diego Symphony behind the convention centre was a fitting finale to an evening of surprises in the company of old and new members of the storied sci-fi franchise that delighted the attending horde.
When news broke several weeks before Comic-Con that there would be no Marvel Studios presentation this year, there were ominous rumblings about the perceived lack of big hitters on show in San Diego.
Lionsgate's The Hunger Games: The Mockingjay – Part 2 panel on Thursday put paid to that notion as will, one presumes, Saturday's scheduled sessions from Warner Bros, Fox, Quentin Tarantino and Legendary.
However there is nothing to match the panache, sheer fun and geek culture ecstasy of Disney's Comic-Con sessions and JJ Abrams and his cohorts at Marvel Studios stablemate Lucasfilm kept the flag flying on Friday.
The director of the anticipated year-end release of Star Wars: Episode VII – The Force Awakens kicked off the session with producer and Lucasfilm president Kathy Kennedy and screenwriter Lawrence Kasdan, who returns to the galaxy far, far away after writing the first three iconic features.
First cut ready
Abrams said the first cut was in the bag and now the filmmakers were fine-tuning ahead of the day-and-date global release on or around December 18.
All three spoke of their love for the universe created by George Lucas. Despite his accomplishments in film and TV, Abrams spoke about the property with a sense of wonder that many in Hall H would have found easily relatable.
He recalled the impact Star Wars had on his life when he watched it in a theatre with his parents, adding that the franchise's personality should not distract from the storytelling task he and his collaborators face.
"The power of what's come before is so infectious, so deep that you have to harness it. You cannot be blinded by it."
This from the man who minutes earlier got a big laugh when he spoke of his experiences with the film's hallowed composer.
"I sat down with John Williams to show him scenes of a Star Wars movie he had not seen yet – that I directed. There's nothing normal [about that]."
Behind the scenes
Abrams then introduced a behind-the-scenes compilation featuring footage shot in Abu Dhabi and one or two creatures before one such beast, operated by five people, was paraded on stage to the joy of fans.
Footage also appeared to show Simon Pegg wearing a creature costume.
New cast members John Boyega (Finn), Daisy Ridley (Rey) and Oscar Isaac (Poe Dameron) came on, followed a short while later by three practitioners of the Dark Side: Adam Driver as Kylo Ren, Domhnall Gleeson as General Hux and popular Gwendoline Christie from Game Of Thrones as Captain Phasma.
Veteran cast take the stage
However, Abrams and Kennedy had something up their sleeves that would ratchet up the decibel level even further. There were nine people on stage, not counting moderator Chris Hardwick. Three seats remained empty.
Then Carrie Fisher walked on stage to a big cheer. Mark Hamill's arrival drew an even bigger show of appreciation, while the appearance of Harrison Ford provoked the loudest reaction of the session.
"It was like a flashback," said Fisher of being invited to reprise her role as Princess Leia in the series. "They were right about acid flashbacks. It was a little bit like before but more melted, but in a good way."
Hamill maintained the trippy vibe when he reflected how returning to play Luke Skywalker was like "an out-of-body experience".
He told how after Star Wars became huge he and his new wife went on honeymoon to Tahiti where they felt confident nobody would have heard of the film. The next day someone approached them in a small boat wearing a Darth Vader mask.
For his part, Ford was pleasantly surprised with how things turned out when he agree to reprise the role of Han Solo.
"It should have felt ridiculous. It was thirty-something years ago and I sort of grew up and I will tell you [playing Solo again] felt great," he said.
"I wasn't so sure it would, but the company was the right company, the director was the right director, Larry wrote us a wonderful story and I was proud and grateful to once again be involved."
They were joined in spirit by Peter Mayhew, who once again plays Chewbacca and waved from the audience.
Hardwick also gave a shout-out to Kevin Doyle, who on Thursday completed a 600-mile charity walk in his Stormtrooper costume in tribute to his late wife Eileen, a lifelong Star Wars fan who died from pancreatic cancer in late 2012.
Live concert
The session was approaching its conclusion. Or so everybody thought. Stormtroopers had used stealth to infiltrate Hal H and lined up on the dias behind the talent.
Then Abrams leaned forward. "Do you want to go to a live concert?" Cue wild screams folowed by a remarkably orderly and well marshalled exodus of more than 6,000 giddy fans.
One hour later Abrams and the cast were in front of them again, this time on an outdoor stage, before John Williams introduced the San Diego Symphony via a recorded video message.
The band launched into a medley of Star Wars standards to the accompaniment of waving lightsabers. Disney's love affair with Comic-Con goes from strength to strength.