The home entertainment release sold more than 1.2m units in the UK in its first week of release (including both Blu-ray and DVD).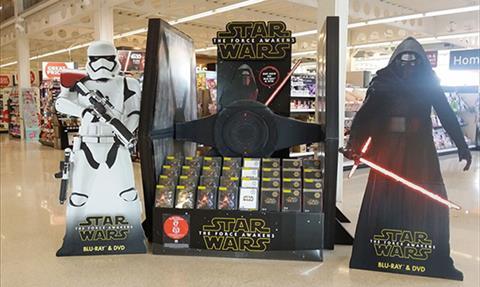 Star Wars: The Force Awakens has become the UK's fastest-selling Blu-ray of all time, shifting more than 530,000 units in its first week of release (Apr 18-24).
The film overtakes Skyfall, which sold 522,000 in its first week on shelves in 2013.
The Force Awakens is also the fastest-selling Star Wars home entertainment title, seeing 1.2m units purchased across DVD and Blu-ray, beating The Phantom Menace which sold 1.17m in April 2000.
The release bolstered the home entertainment market last week with sales up 51% year-on-year, according to the Official Charts Company. The company also noted that the sales of new release Blu-rays is up 17.1% year-on-year in 2016, in part aided by J.J Abrams' sci-fi.
Avatar remains the top-performing Blu-ray release ever, selling 1.2m copies to date, Skyfall sits second with 821,000.
Liz Bales, chief executive of home entertainment trade body BASE, commented: "The huge leap in Blu-ray consumption shows that consumers absolutely value the content and are willing to pay a premium price for the best quality viewing experience at home."
Last week, some shoppers who had bought the DVD took to Twitter to express dissatisfaction over the sparsity of extras such as deleted scenes and a code for the digital version, which is included in the Blu-ray release.